Top 50 richest people in Indonesia 2014
With a net worth of US$16.5 billion, banking tycoons Robert Budi Hartono and Michael Hartono, who own Bank Central Asia and the Djarum Group, are the richest Indonesians, according to the latest Forbes Indonesia rich list for 2014.
Tobacco tycoon Susilo Wonowidjojo climbed to the No 2 spot from No 4 last year, Conglomerate chief Anthoni Salim, who runs Salim Group, remains at No 3.
Making an appearance in the list for the first time in the top 50 is:
Purnomo Prawiro of the Blue Bird group, who's at number 25 with $1.3 billion.
Husodo Angkosubroto of conglomerate Gunung Sewu Group, who's at number23 with $1.45 billion.
Timber baron Abdul Rasyid, who's at number 41 with $805 million.
Herbal medicine entrepreneur, Irwan Hidayat, who's at number 44 with $660 million.
Indonesia's youngest billionaire is 38-year-old Ciliandra Fangiono, who's number 22 on the list with $1.5 billion.
Indonesia's richest woman billionaire is 84-year-old Kartini Muljadi, who's number 29 on the list with $1.1 billion.
As of December 2014, collectively, Indonesa's 50 richest are worth $102 billion, up from $95 billion last year.
Top 50 richest people in Indonesia 2014 Are:
1) Budi & Michael Hartono; US$16.5 billion
2) Susilo Wonowidjojo; US$8 billion
3) Anthoni Salim; US$5.9 billion
4) Eka Tjipta Widjaja; US$5.8 billion
5) Sri Prakash Lohia; US$4.4 billion
6) Chairul Tanjung; US$4.3 billion
7) Boenjamin Setiawan; US$3.5 billion
8) Mochtar Riady; US$2.7 billion
9) Peter Sondakh; US$2.3 billion
10) Sukanto Tanoto; US$2.11 billion
11) Tahir; US$2.1 billion
12) Bachtiar Karim; US$2 billion
13) Putera Sampoerna & family; US$1.9 billion
14) Theodore Rachmat; US$1.9 billion
15) Murdaya Poo; US$1.7 billion
16) Kusnan & Rusdi Kirana; US$1.7 billion
17) Eka Tjandranegara; US$1.7 billion
18) Martua Sitorus; US$1.7 billion
19) Eddy Katuari & family; US$1.7 billion
20) Kuncoro Wibowo & family; US$1.6 billion
21) Ciputra & family ; US$1.5 billion
22) Ciliandra Fangiono & family; US$1.5 billion
23) Husodo Angkosubroto & family; US$1.5 billion
24) Hary Tanoesoedibjo; US$1.4 billion
25) Purnomo Prawiro; US$1.3 billion
26) Edwin Soeryadjaya; US$1.3 billion
27) Djoko Susanto; US$1.3 billion
28) Achmad Hamami & family; US$1.2 billion
29) Kartini Muljadi & family; US$1.1 billion
30) Low Tuck Kwong; US$1.1 billion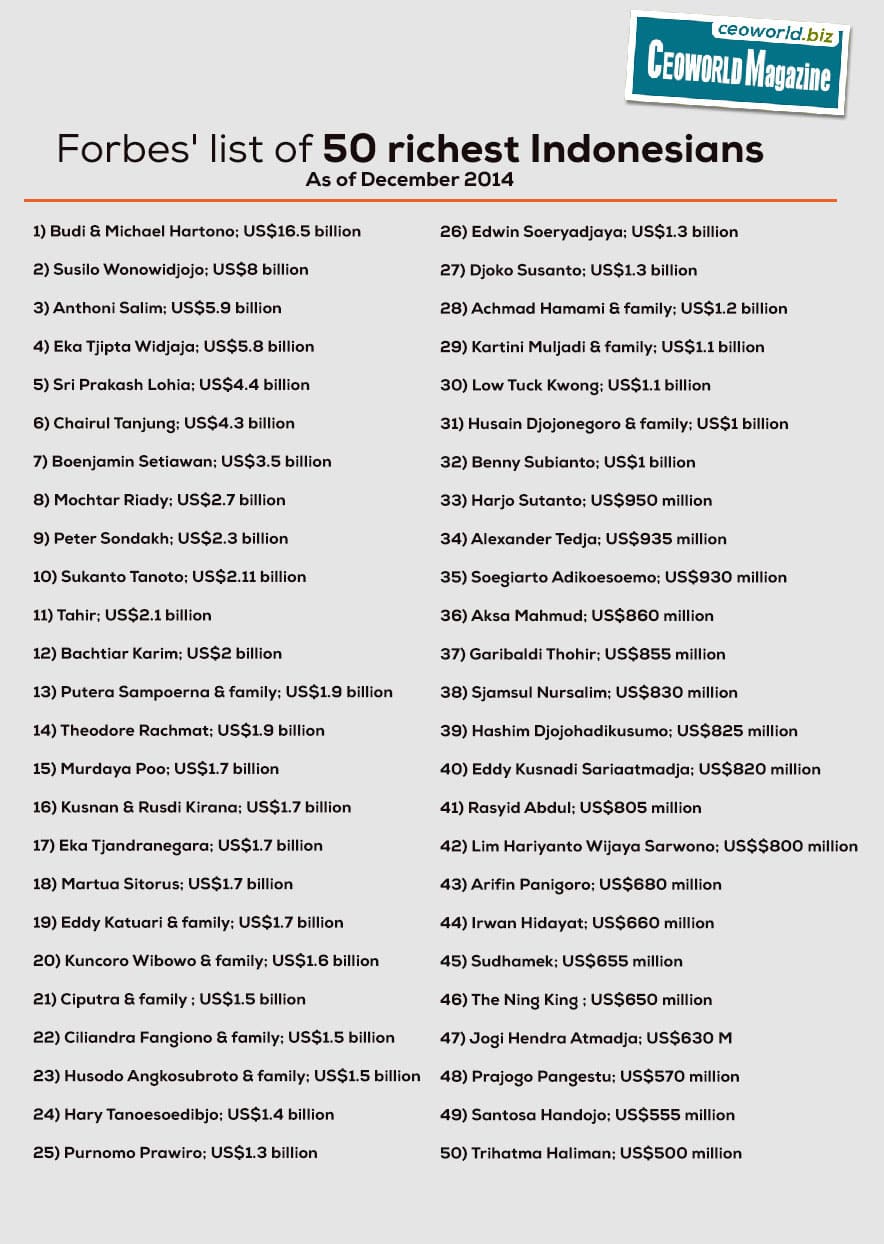 31) Husain Djojonegoro & family; US$1 billion
32) Benny Subianto; US$1 billion
33) Harjo Sutanto; US$950 million
34) Alexander Tedja; US$935 million
35) Soegiarto Adikoesoemo; US$930 million
36) Aksa Mahmud; US$860 million
37) Garibaldi Thohir; US$855 million
38) Sjamsul Nursalim; US$830 million
39) Hashim Djojohadikusumo; US$825 million
40) Eddy Kusnadi Sariaatmadja; US$820 million
41) Rasyid Abdul; US$805 million
42) Lim Hariyanto Wijaya Sarwono; US$$800 million
43) Arifin Panigoro; US$680 million
44) Irwan Hidayat; US$660 million
45) Sudhamek; US$655 million
46) The Ning King ; US$650 million
47) Jogi Hendra Atmadja; US$630 M
48) Prajogo Pangestu; US$570 million
49) Santosa Handojo; US$555 million
50) Trihatma Haliman; US$500 million
Respond