25 Most Powerful And Influential Authors In Hollywood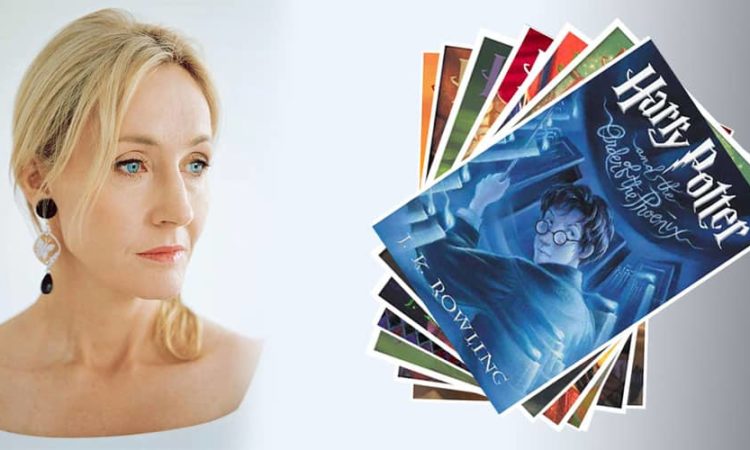 Harry Potter author J.K. Rowling has been named the most powerful author in Hollywood, followed by Stephen King at number 2 and Game of Thrones mastermind George R. R. Martin at number 3.
Magazine's "Power Authors" issue also features a list of five writers to watch, including Ernie Cline (Ready Player One), Irish-Canadian author Emma Donoghue (Room), Kevin Kwan (Crazy Rich Asians), Rainbow Rowell (Eleanor & Park), and Neal Stephenson (Snow Crash).
J.K. Rowling claimed the number 1 spot because arguably speaking, "no single creator has had so much influence on a mega franchise since George Lucas and the original Star Wars trilogy."
Rounding out the top five are "Fifty Shades Of Grey" author E.L. James and John Green of The Fault in Our Stars fame. While Nicholas Sparks, Gillian Flynn (Gone Girl), James Patterson, Michael Lewis, and Laura Hillenbrand, make the top 10.
To make the list, The Hollywood Reporter magazine looked at book sales, number of adaptations, other screenwriting and also assessed the cultural impact of their works.
25 Most Powerful And Influential Authors In Hollywood
1. J.K. Rowling
2. Stephen King
3. George R.R. Martin
4. EL James
5. John Green
6. Nicholas Sparks
7. Gillian Flynn
8. James Patterson
9. Michael Lewis
10. Laura Hillenbrand
11. Dennis Lehane
12. Suzanne Collins
13. Matthew Quick
14. Diana Gabaldon
15. David Grann
16. Seth Grahame-Smith
17. Hilary Mantel
18. Ken Follett
19. Nick Hornby
20. Nathaniel Philbrick
21. Brad Meltzer
22. Cormac McCarthy
23. Veronica Roth
24. John Grisham
25. Terry Brooks
Hollywood's Top 5 Writers to Watch:
1. Ernie Cline, Ready Player One
Zak Penn (The Incredible Hulk) is scripting the geek adaptation stuffed with video game references.
2. Emma Donoghue, Room
Brie Larson is signed on to play the abducted Jaycee Dugard-like main character in the Film4 feature.
3. Kevin Kwan, Crazy Rich Asians
Nina Jacobson's Color Force (The Hunger Games, Wimpy Kid) is developing the rom-com with international appeal.
4. Rainbow Rowell, Eleanor & Park
One of John Green's favorite novels of 2013 is in development at DreamWorks.
5. Neal Stephenson, Snow Crash
Kathleen Kennedy is producing the cyberpunk adaptation, with Joe Cornish (Tintin) scripting.
Hollywood's Top 5 Most Powerful Comics Writers
1. Robert Kirkman, The Walking Dead
2. Geoff Johns, Justice League, Superman
3. Brian Michael Bendis, Ultimate Spider-Man
4. Mark Millar, Kick-Ass, Civil War
5. Chris Claremont, Uncanny X-Men
Dr. Amarendra Bhushan Dhiraj is the CEO and editorial director at CEOWORLD magazine, the leading global business magazine written strictly for CEOs, CFOs, top managers, company directors, investors, senior executives, business leaders, high net worth individuals, and the most globally powerful men and women.
Latest posts by Dr. Amarendra Bhushan Dhiraj
Leave a Reply