Top 20 Coolest Brands In Britain 2014/15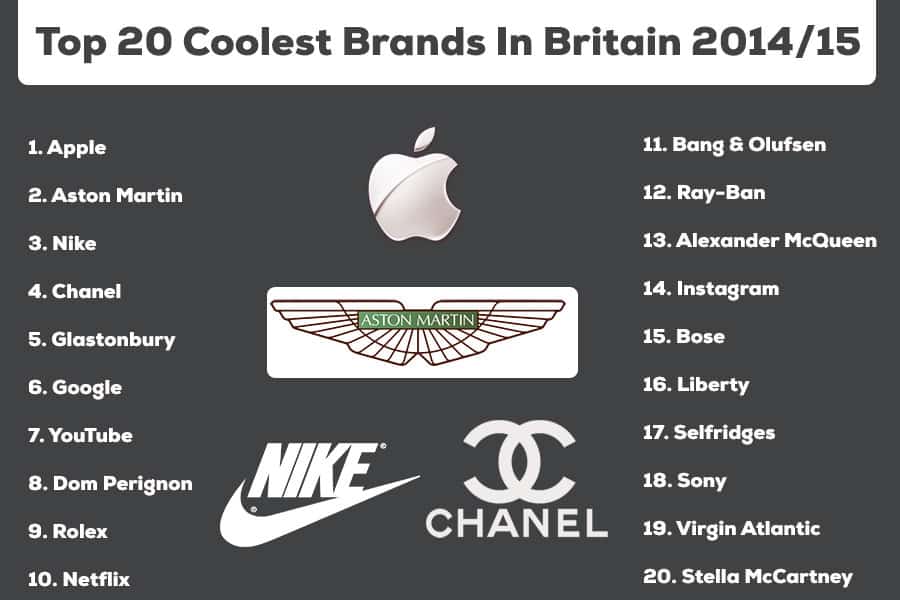 The tech giant Apple has been named the "coolest brand" in Britain for the 3rd consecutive year, while Twitter and Adidas have fallen out of the top 20 list.
Luxury car brand Aston Martin and Nike trailing in second and third place, respectively.
The annual survey revealed that Twitter has dropped off the top 20 list for the first time in 3 years. However, rival social platform Instagram has made its first appearance in the elite club.
Elsewhere, US movie and TV streaming giant Netflix broke into the Top 20 UK list for the first time in tenth place.
Voters were asked to bear in mind style, innovation, originality, authenticity, desirability and uniqueness when listing their brand selections.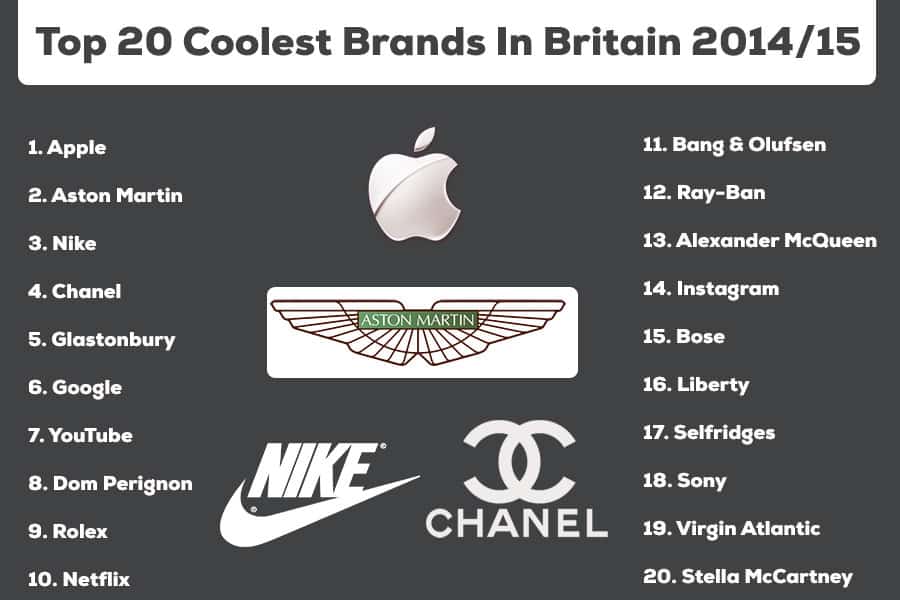 Read The Official Top 20 Coolest Brands In Britain 2014/15:
1. Apple
2. Aston Martin
3. Nike
4. Chanel
5. Glastonbury
6. Google
7. YouTube
8. Dom Perignon
9. Rolex
10. Netflix
11. Bang & Olufsen
12. Ray-Ban
13. Alexander McQueen
14. Instagram
15. Bose
16. Liberty
17. Selfridges
18. Sony
19. Virgin Atlantic
20. Stella McCartney
The CoolBrands top 20 list is the result of an independent survey of 2,000 British consumers and a panel of 37 key independent influencers – including musicians Ella Eyre, Labrinth, Laura Mvula and Reverend and The Makers, SB.TV founder Jamal Edwards and models, Jodie Kidd and Sophie Dahl.
************
Please follow me on Twitter @ceoworld and Facebook @amarendrab.
Dr. Amarendra Bhushan Dhiraj is the CEO and editorial director at CEOWORLD magazine, the leading global business magazine written strictly for CEOs, CFOs, top managers, company directors, investors, senior executives, business leaders, high net worth individuals, and the most globally powerful men and women.
Latest posts by Dr. Amarendra Bhushan Dhiraj
Leave a Reply