Is It Too Late: 10 Biggest Carbon Polluting Nations in the world 2014?
The world's second largest economy, China has passed the European Union for the first time in terms of per capita carbon dioxide emissions, according a study by the Global Carbon Project.
The world's three biggest carbon polluting nations — China, the United States, and India along with the European Union accounted for almost two-thirds of emissions and 80% of the growth in pollution.
CO2 emissions in 2013 were dominated by China (27.6 percent), United States (14.5 percent), European Union (9.6 percent), and India (6.7 percent), meaning that the top 4 polluters account for 58 percent of total emissions.
Trends show that China could soon also out-pollute the United States, EU28 and India combined, and India could emit more than the European Union.
From 2012 to 2013, India's emissions grew 5.1%, China was up 4.2%, United States expanded 2.9%, and the 28-nation European Union managed to slash emissions 1.8 percent. Worldwide, carbon dioxide emissions from fossil fuels are projected to rise 2.5 percent this year.
Each person in China produced 7.2 tons of carbon dioxide on average compared with 6.8 tons in Europe and 1.9 tons in India.
Coal remained the dominant source of carbon dioxide growth, with more than 90% of the global increase coming from rapidly developing China and India.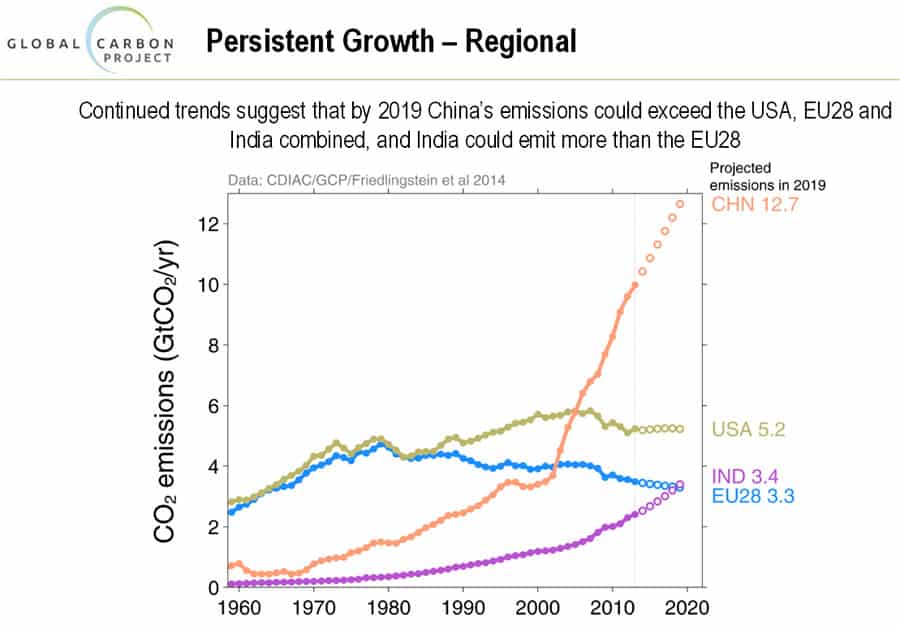 Top 10 Global CO2 Polluters
1. China –  27.6% of world total, CO2 emissions grew at 4.2% and per capita emissions in China (7.2 tons of CO2 per person) overtook those in Europe (6.8 tons per person).
2. United States –  14.5% of world total, CO2 emissions increased by 2.9% because of a rebound in coal consumption and projected to remain steady until 2019.
3. European Union – 9.6% of world total, CO2 emissions fell by 1.8% on the back of a weak economy.
4. India –  6.7% of world total, CO2 emissions grew by 5.1%, driven by robust economic growth and an increase in the carbon intensity of the economy.  India's total emissions are projected to overtake those in the European Union by 2019.
5. Russia –  5% of world total
6. Japan –  3.4% of world total
7. South Korea –  1.7% of world total
8. Iran –  1.7% of world total
9. Saudi Arabia –  1.4% of world total
10. Canada –  1.4% of world total
****************
Is it too late to tame the climate?
Notably, Chinese President Xi Jinping and Indian Prime Minister Narendra Modi are skipping the UN Climate Summit 2014, because of scheduling conflicts.
In empirical terms, it's difficult to think of two more influential country heads in the world right now: Together they lead more than a third of the world's population, more than 2.5 billion people .
And the two countries are not only the first and second most populous countries on Earth; but also were the first- and third-biggest producers of CO2 emissions.
The key is not to prioritize what's on your schedule, but to schedule your priorities. – Stephen Covey
Follow me on Twitter @ceoworld and on Facebook @amarendrab for updates!
Track Latest News Live on CEOWORLD magazine and get news updates from the United States and around the world. The views expressed are those of the author and are not necessarily those of the CEOWORLD magazine.
Follow CEOWORLD magazine headlines on:
Google News
,
LinkedIn
,
Twitter
, and
Facebook
.
Thank you for supporting our journalism. Subscribe here.
For media queries, please contact:
info@ceoworld.biz