THE BIGGEST MARKET YOU ARE NOT FOCUSED ON: Opportunities Of An Aging Population
The aging population has been called everything from the "silver tsunami" to the "gray storm" to a "ticking time bomb". This negative imagery has contributed to the older demographic being largely snubbed by brands, marketers and advertisers in favor of the more positively portrayed younger generation: that alluring sweet spot of 18-34 year old consumers. In doing so, companies are ignoring a prime demographic that controls 70% of America's spending power. Market research is starting to realize the value of these consumers who are less cost-conscious and more brand loyal than their younger (and increasingly brand-cynical) counterparts. Companies that seize the opportunity to connect meaningfully with this underserviced and often neglected segment are poised to reap substantial financial rewards.
The Aging Revolution: Changing Percentages & Perceptions:
For the first time in history, the number of people aged 50+ is currently more than 1.5 billion strong. This demographic comprises approximately 22% of the world's population; in the United States and Europe the percentages are even higher at approximately 33% and 38% respectively. The aging population is growing rapidly across the globe, at a substantially faster rate than the total population. These are unprecedented numbers for unprecedented times.
Not only does their sheer size warrant attention, it is also the way that today's mature population is tackling aging that makes them such an attractive market. Today's mature individuals are living longer and spending their later years engaged and active, whether through continued work, hobbies, travel or other activities. Medical breakthroughs, health awareness and a refusal to age like prior generations has enabled today's mature adults to physically and emotionally slow down the aging process and make the most of their 'golden years'. Not only do they control more spending power than any other demographic but, contrary to previous generations, are willing to spend much of it.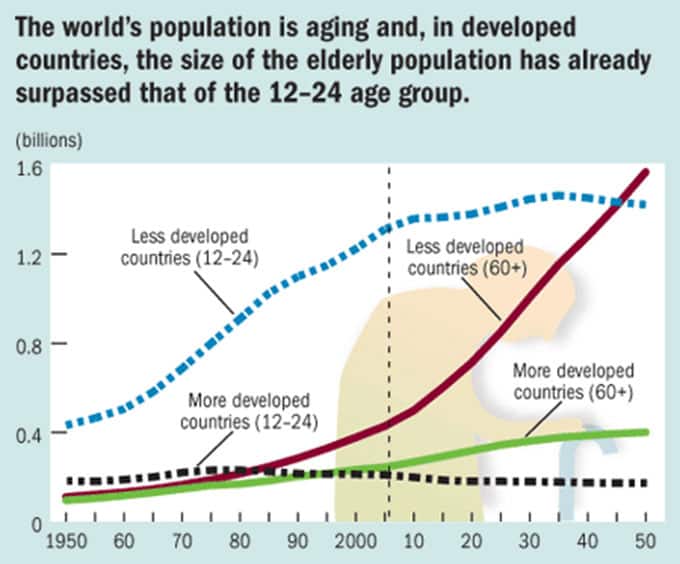 [image: International Monetary Fund. Global Demographic Trends]
A Lucrative and Underserviced Market:
The aging demographic creates a profound economic and business opportunity. Most businesses, however, have responded slowly to this changing world. For example, although mature individuals watch the most television of any demographic, approximately 80% of baby boomers and seniors say they have a hard time finding television shows that reflect or resonate with their lives. In addition, only 5% of advertising budgets have traditionally been focused on wooing this TV-watching demographic, whereas 80% is spent trying to reach the 18-34 year old market, a market of people who continuously devise ingenious methods of skipping those ads!
In the past, companies have avoided the maturing demographic for a number of reasons, including an assumption that older individuals already have established brand and product preferences, are extremely cost conscious or are more resistant to new products than the younger generation. But these stereotypes are simply not the case today.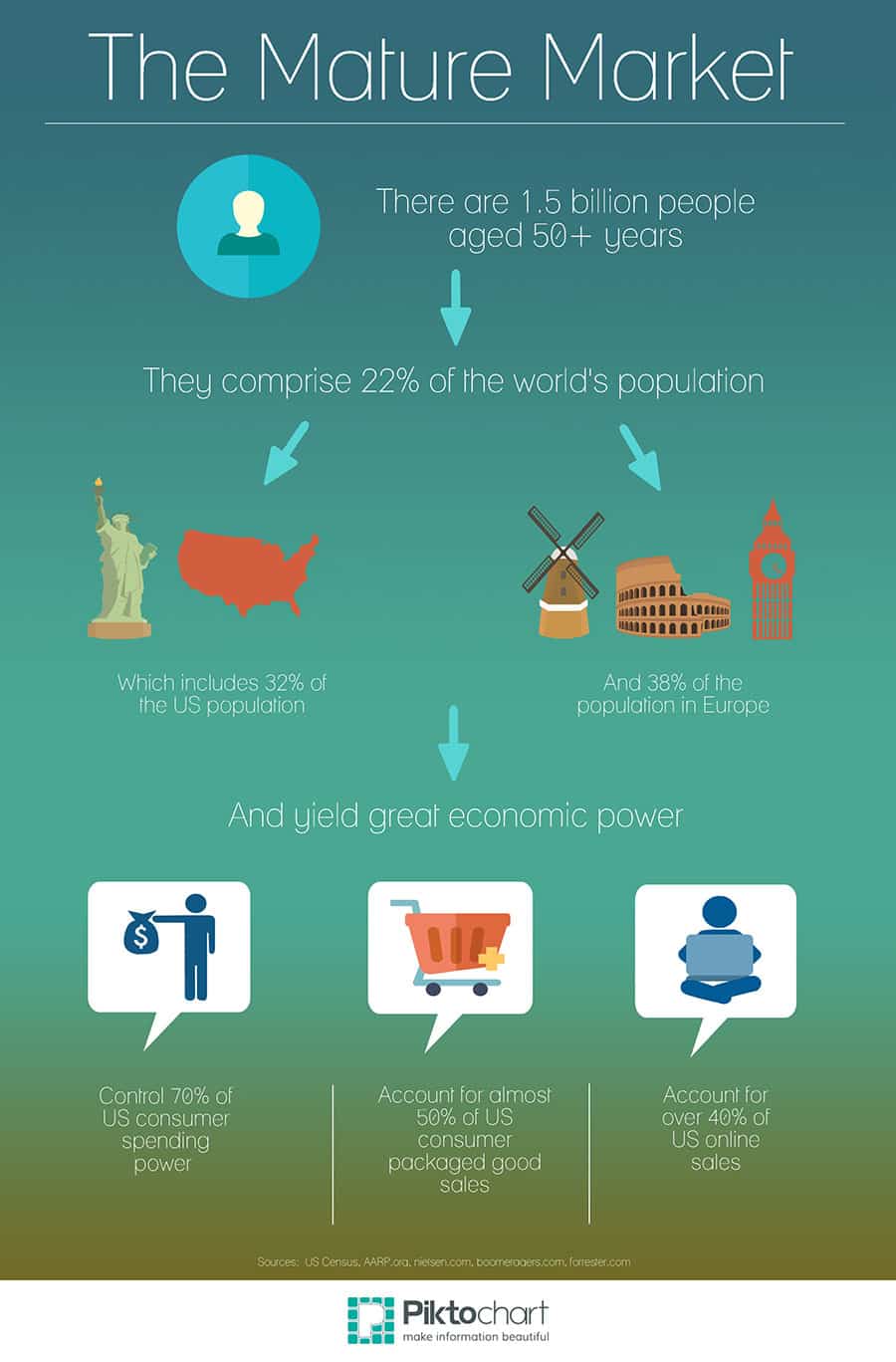 As Nielsen and BoomAgers' research highlights, as baby boomers age, they will shift away from a heavy focus on making money towards a focus on spending money. With more free time thanks to retirement, baby boomers and seniors are spending more time and money on hobbies, interests, and their families and friends – making them open to new products and services that can assist their new lifestyles.
Although baby boomers and seniors may still be slower to adopt new technologies or other innovations, this doesn't last long. As Forrester Research highlights, baby boomers now spend more money on technology than any other age demographic. In addition, not only are baby boomers as likely as young adults to buy a wide variety of new products and services, they are also much less price sensitive or reluctant to spend money.
Baby boomers and seniors are craving products and services to meet their changing needs. Most importantly, they have both the money and the desire to pay for them. Consider, for example, the opportunity in the health and beauty products markets. Although the mature market accounts for almost half of the beauty spending in North America, almost 70% of women in this demographic feel ignored by the fashion and beauty markets. Companies that effectively cater to these consumers are poised to enjoy enormous rewards.
The baby boomer generation has taken control of each stage of their lives, and changed it to fit their needs. Their aging years will be no different. This sector is changing both the way that society views aging and the way that society ages. Those organizations and businesses who can lead the way in shedding negative stereotypes, and embrace the opportunities of aging, are poised to prosper.
---
Add CEOWORLD magazine to your Google News feed.
---
Follow CEOWORLD magazine headlines on:
Google News
,
LinkedIn
,
Twitter
, and
Facebook
.
---
Thank you for supporting our journalism. Subscribe here.
---
For media queries, please contact:
info@ceoworld.biz
---