Who Is Making Top Dollar: 10 Highest-Paid Actors In Hollywood?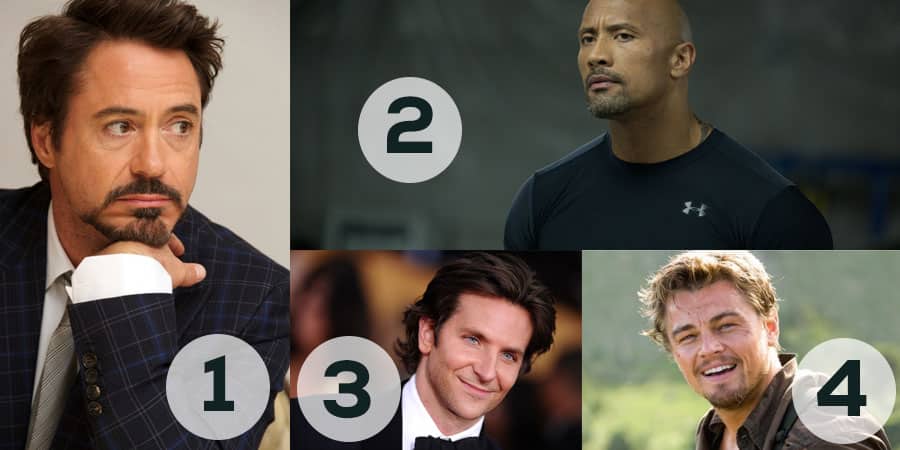 The star of Iron Man, Robert Downey Jr. once again leads Forbes Magazine's list of the top-earning actors in Hollywood from June 2013 to June 2014. Well, It's good to be Iron Man!
Coming in 2nd on the list of 10 highest-paid actors in Hollywood is "The Fast & the Furious" star Dwayne "The Rock" Johnson, who earned $52 million. Rounding out the top five is Bradley Cooper, with an estimated $46 million, Leonardo DiCaprio, with an estimated $39 million, and Downey's "Avengers" co-star Chris Hemsworth — aka "Thor" — who made around $37 million over the past 12 months.
Top 10 highest-paid actors in Hollywood:
No. 1: Robert Downey Jr.,  $75 million appeared in three "Iron Man" movies and the upcoming "Avengers: Age of Ultron," slated for release in 2015.  You can follow "Robert Downey Jr." on twitter @RobertDowneyJr.
No. 2: Dwayne Johnson, $52 million. the former WWE star, acted in films G.I. Joe: Retaliation and Fast & Furious 6, you can follow "Dwayne Johnson" on Twitter @TheRock.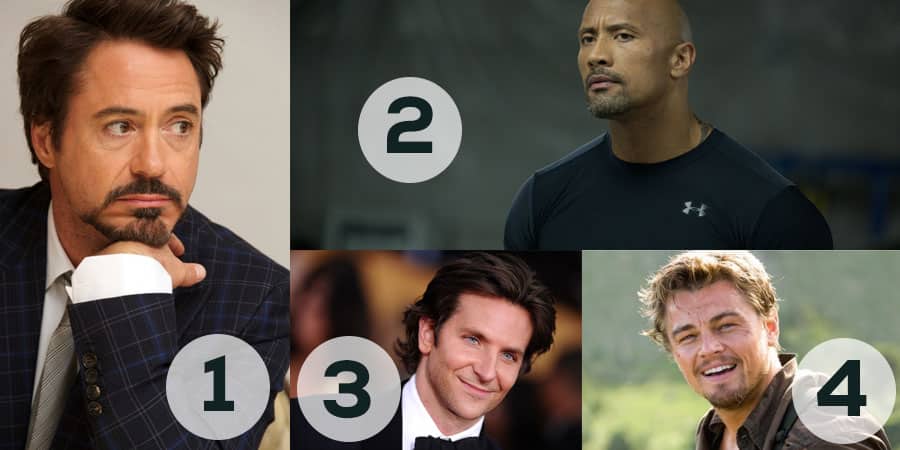 No. 3: Bradley Cooper, $46 million. Credits include the Hangover, American Hustle and Silver Linings Playbook.
No. 4: Leonardo DiCaprio, $39 million. Credits include The Wolf of Wall Street and The Great Gatsby, you can follow "Leonardo DiCaprio" on Twitter @LeoDiCaprio.
No. 5: Chris Hemsworth, $37 million. Star of Thor and the upcoming Cyber.
No. 6: Liam Neeson, $36 million. Star of Non-Stop and the upcoming Taken 3.
No. 7: Ben Affleck, $35 million. Star of Argo and the upcoming Batman vs. Superman, you can follow Ben Affleck on Twitter @BenAffleck.
No. 8: Christian Bale, $35 million. Star of recent Batman movies and American Hustle.
No. 9: Will Smith, $32 million. Credits include After Earth and Men in Black 3.
No. 10: Mark Wahlberg, $32 million. Star of Ted and Lone Survivor, you can follow "Mark Wahlberg" on Twitter @mark_wahlberg.
***********
Follow us on Twitter @ceoworld.
Track Latest News Live on CEOWORLD magazine and get news updates from the United States and around the world. The views expressed are those of the author and are not necessarily those of the CEOWORLD magazine.
Follow CEOWORLD magazine headlines on:
Google News
,
LinkedIn
,
Twitter
, and
Facebook
.
Thank you for supporting our journalism. Subscribe here.
For media queries, please contact:
info@ceoworld.biz