Are You The Right Guy For The Job: Top 5 Qualities And Traits?
When faced with several equally qualified candidates, employers look for the possession of certain qualities and traits to help them make the right selection decisions. Are you the right guy for the job?
We surveyed over 1,700 U.S. employers and HR professionals to get a handle on the challenges that face them in hiring. What are they looking for in job candidates?
In no particular order, here are few qualities and traits hiring managers, employers, or HR heads are really looking for.
Professionalism (91%), High-energy (83%), Confidence (73%), Intellectual curiosity (62%) and Self-monitoring (55%) are the big five desirable traits employers say they are looking for in aspiring job applicants.
How's that for a leg up on the competition?
1) Professionalism (91%)
2) High-energy (83%)
3) Confidence (73%)
4) Intellectual curiosity (62%)
5) Self-monitoring (55%)
Here are the other ten skills employers say they seek, in order of importance:
1. His/he ability to work as a team
2. Ability to make decisions and solve problems
3. Ability to plan, organize and prioritize work
4. Ability to communicate verbally with people inside and outside an organization
5. Ability to obtain and process information
6. Ability to analyze quantitative data
7. Technical knowledge related to the job
8. Proficiency with computer software programs
9. Ability to create and/or edit written reports
10. Ability to sell and influence others
The Big Five Desirable Traits Employers Look For In The Aspiring Job Applicants.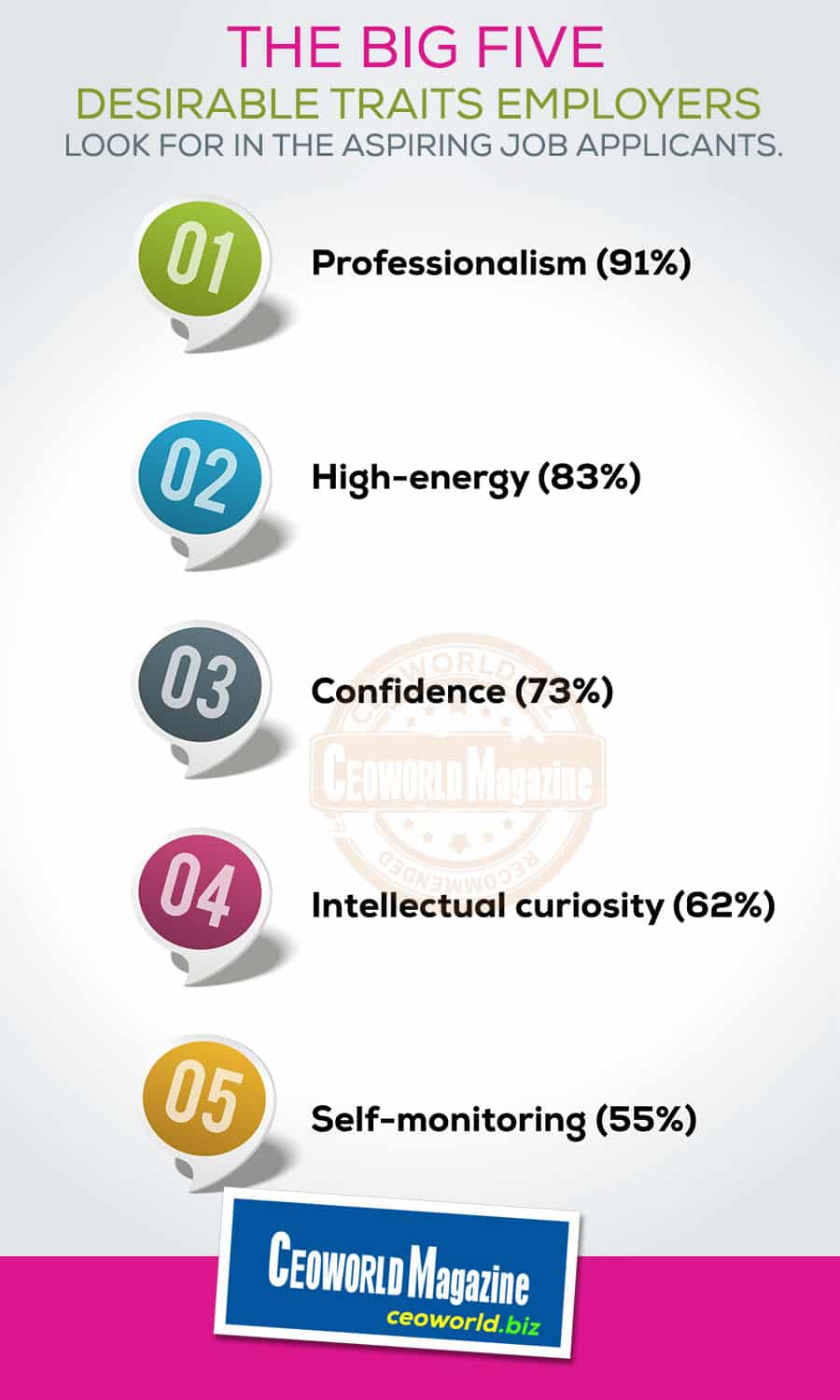 How do your qualities stack up against the list of traits employers are looking for in job candidates? Share your questions or ideas below!
Dr. Amarendra Bhushan Dhiraj is the CEO and editorial director at CEOWORLD magazine, the leading global business magazine written strictly for CEOs, CFOs, top managers, company directors, investors, senior executives, business leaders, high net worth individuals, and the most globally powerful men and women.
Latest posts by Dr. Amarendra Bhushan Dhiraj
Leave a Reply