Ruby Slippers: Leadership Lessons from The Wizard of Oz
This year the epic film, The Wonderful Wizard of Oz, celebrates 75 years since its premiere. Early in the film the powerful nature of the ruby slippers was messaged to Dorothy. Soon after arriving in Munchkinland, Glinda the Good Witch of the North teases the Wicked Witch of the West, "Aren't you forgetting the ruby slippers?" and the Witch replies, "The slippers — yes…..the slippers!"
The slippers have magically transferred from the Wicked Witch of the East to Dorothy's feet and Glinda warns Dorothy, "Keep tight inside of them — their magic must be very powerful, or she wouldn't want them so badly!"  Later, it's the ruby slippers on Dorothy's feet that become the code to open the door to Oz. When the guard initially refuses entrance, the Scarecrow asserts, "She's wearing the ruby slippers [Glinda] gave her". The guard replies, Oh…so she is!
Well, bust my buttons! Why didn't you say that in the first place?" Our four protagonists are immediately granted entrance (Screenplays for you, 2014).
The power and value of the ruby slippers is emphasized throughout the film yet no one, not Dorothy nor the wise Scarecrow, nor the 'Great and Powerful Oz' himself correlate the connection between the power of the ruby slippers and their ability to take her home.
The team is singularly focused on getting to Oz and having the Wizard of Oz solve their problems. Only the Wicked Witch of the West understands the full power of the slippers. She says to the flying monkeys, "When I gain those ruby slippers, my power will be the greatest in Oz!" (Screenplays for you, 2014).
The Wicked Witch understands that the ruby slippers can make the possessor omnipotent – more powerful than the perceived 'Great and Powerful Oz'.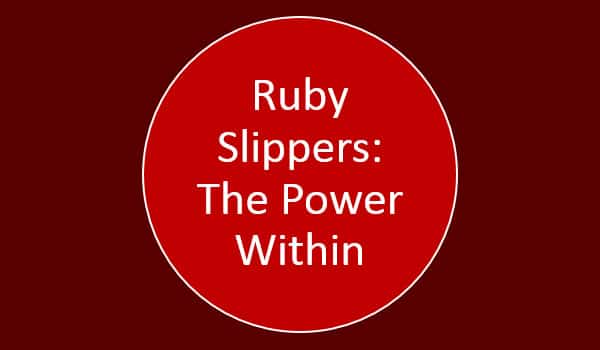 So often in our lives we as individuals fail to see the power we hold. We look to others for the power, we look to perceived experts, so-called wizards, whether they be our managers, our co-workers, our mentors, our friends, our partners or spouses to provide us with the answers we seek. In searching for answers in business or in life we can lack faith in our own capabilities, we lack trust in the power we have within ourselves to solve our own problems.
We undervalue and overlook our own capabilities when that power is as close as the shoes on our feet.  Dorothy's ruby slippers represent the power we all have within ourselves to make our dreams become reality. When the Good Witch Glinda said to Dorothy, "You've always had the power to go back to Kansas", that says it all.
Too often we don't believe in our own talent and strengths" (The Leadership Style Center, 2014). "The overarching message is that everything you require to enjoy this life is inside you right this moment" (Brandstorm, 2014).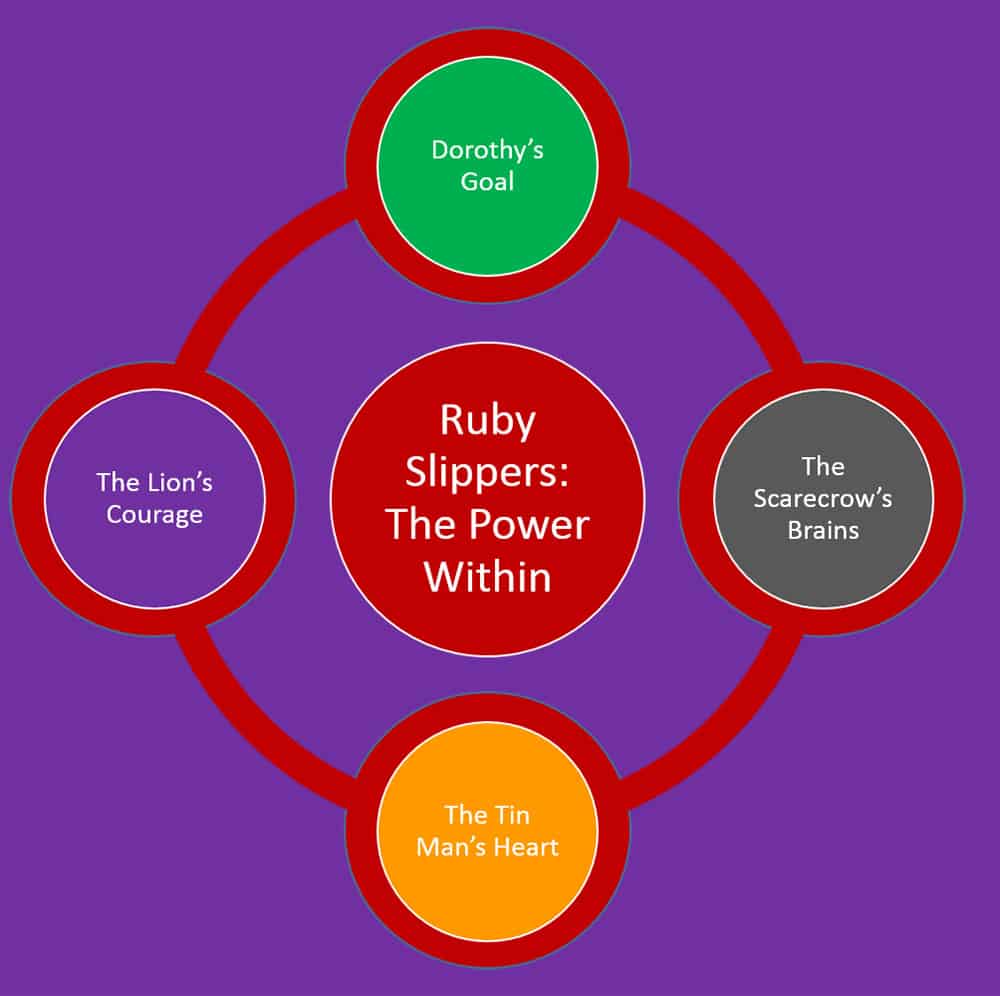 The proverb 'experience is the best teacher' is an axiom that has been shared for over 400 years (Answers Corporation, 2014). The overarching message we can extract from the Oz film, "you've always had the power to go back to Kansas", is that Dorothy has always had the ability to achieve her goal, to get back home. It was over 350 years ago that Galileo wrote, "One cannot teach a man anything. One can only enable him to learn from within himself" (LeadershipNow, 2011).
When A. A. Milne wrote 'The Complete Tales of Winnie-the-Pooh' in 1926, his character Christopher Robin shared similar words of wisdom with Pooh bear, "Promise me you'll always remember: You're braver than you believe, and stronger than you seem, and smarter than you think" (Milne, 1926).
"Good leaders know that some things have to be experienced. You can't always get the important lesson from being taught or reading a book. This is true in all of life, whether you are driving a car, catching a wave, throwing a baseball, or riding a bike. And being a leader also falls into this category.
Some things require experience. It's a developmental process and must be started at the beginning" (LeadershipTraq, 2013). "It's always best to start at the beginning [Glinda advised]…and all you do is follow the Yellow Brick Road" (Screenplays for you, 2014).
***********
This article, the second in a five-part series published by CEOWorld Magazine, examines leadership through the lens of L. Frank Baum's 'The Wonderful Wizard of Oz'. The author, Jonathan Stutz, believes a leader's success is dependent upon a belief in oneself, having a goal for a better future, wisdom, emotional intelligence, and a willingness to take action. Throughout this series you will learn that developing these combined capabilities is a journey, a road filled with difficulties and obstacles. Stutz's insights demonstrate that Baum's fantasy provides a platform for leaders to reflect and gain perspective on their own journey down the yellow brick road of leadership. [Also see: Courage: Leadership Lessons from the Wizard of Oz]
References:
Brandstorm (2014). Leadership lessons from the Wizard of Oz. Retrieved on 21 January 2014 [link.]
LeadershipNow (2011). Quotes on teachability. Retrieved on 15 March 2014 from [link.]
LeadershipTraq (2013). Leadership lessons from the Wizard of Oz. Retrieved on 19 January 2014 from [link.]
Milne, A.A. (1926). The complete tales of Winnie-the-Pooh. New York, NY: E.P. Dutton & Co.
Screenplays for you (2014). Wizard of Oz, the movie script. Retrieved on 10 September 2013 from [link.]
The Leadership Style Center (2014). Leadership lessons from the Wizard of Oz. Retrieved on 18 January 2014 from [link.]
By, Jonathan Stutz is a Policy Director at the Microsoft Corporation leading a team in the Trustworthy Computing group (www.microsoft.com/twc). His 18 year career at Microsoft has encompassed Human Resources, Cultural Diversity and Inclusion, Global Readiness, Training, Community Building, Business Development, and Business Operations. Jonathan earned his B.A. in Political Science from the University of Washington (Seattle) and is completing his Master's in Organizational Leadership this June from City University of Seattle.  Jonathan and his wife live in Bellevue, WA, a suburb of Seattle where he is an avid runner and hiker. You can contact Jonathan  on Twitter @jmstutz.
If you liked this post, you might also like these:
---
Add CEOWORLD magazine to your Google News feed.
---
Follow CEOWORLD magazine headlines on:
Google News
,
LinkedIn
,
Twitter
, and
Facebook
.
---
Thank you for supporting our journalism. Subscribe here.
---
For media queries, please contact:
info@ceoworld.biz
---