How To Reach, Engage, and Influence Top Advertising Executives On Twitter?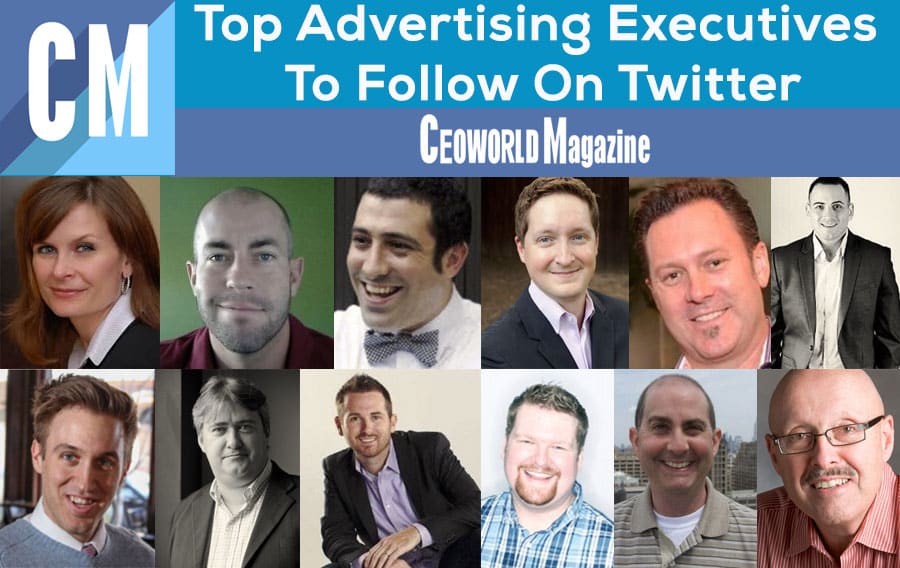 Twitter isn't advertising or marketing platform, it's a conversation. The best Ad Execs on Twitter don't try to sell to their customers, they try to engage and re-engage them in a personal way. Here is a list of Advertising Executives that have mastered Twitter. How Do They Describe Themselves?
"Digital Darwinism is affecting businesses and it's only acceleration," said Brian Solis, listed in CEOWORLD magazine among the "Most Influential Chief Executive Officers (CEOs) on Twitter."  What Do Ad Execs Talk About? What Types of Content Do They Share? Who Do Top Advertising Executives Retweet the Most? Who Did they Mention the Most?
Top Advertising Executives To Follow On Twitter
1. Steve Rubel, Chief Content Strategist for Edelman, the world's largest independent public relations firm. You can follow Steve Rubel on Twitter @steverubel.
2. Dave Kerpen, the founder and CEO of Likeable Local, the cofounder and Chairman of Likeable Media, the NY Times Bestselling author of 3 books, and an international keynote speaker, listed in CEOWORLD magazine among the "Top Individuals Worth Following On LinkedIn." You can follow Dave Kerpen on Twitter @DaveKerpen.
3. Jeffrey Zeldman, Founder & Executive Creative Director at Happy Cog, publishes A List Apart "for people who make websites," a leading journal of web design. You can follow Jeffrey Zeldman on Twitter @zeldman.
4. Jeff Barrett, CEO of Status Creative, create stop-you-where-you-are content that captures an audience and propels your brand to new heights. You can follow Jeff Barrett on Twitter @BarrettAll.
5. Matt Singley, Chief Engagement Officer of Singley + Mackie, a full service digital agency making magic for Microsoft, YP , Samsung, Hasbro & others. You can follow Matt Singley on Twitter @mattsingley.
6. Mitch Joel, President of Twist Image – one of the largest independent Digital Marketing agencies in North America. You can follow Mitch Joel on Twitter @mitchjoel.
7. Gini Dietrich, the founder and CEO of Arment Dietrich, a Chicago-based integrated marketing communication firm. She also is the founder of the professional development site for PR and marketing pros, Spin Sucks Pro, and co-author of Marketing In the Round, listed in CEOWORLD magazine among "The Most Powerful Woman – Consultants, Experts & Gurus in Social Media" and also "TOP 25 WOMEN On Social Media."  You can follow Gini Dietrich on Twitter @ginidietrich.
8. Pablo Hernandez O'Hagan, CEO and founder of Ingenia Group, an interactive agency. You can follow Pablo Hernandez O'Hagan on Twitter @PabloHernandezO.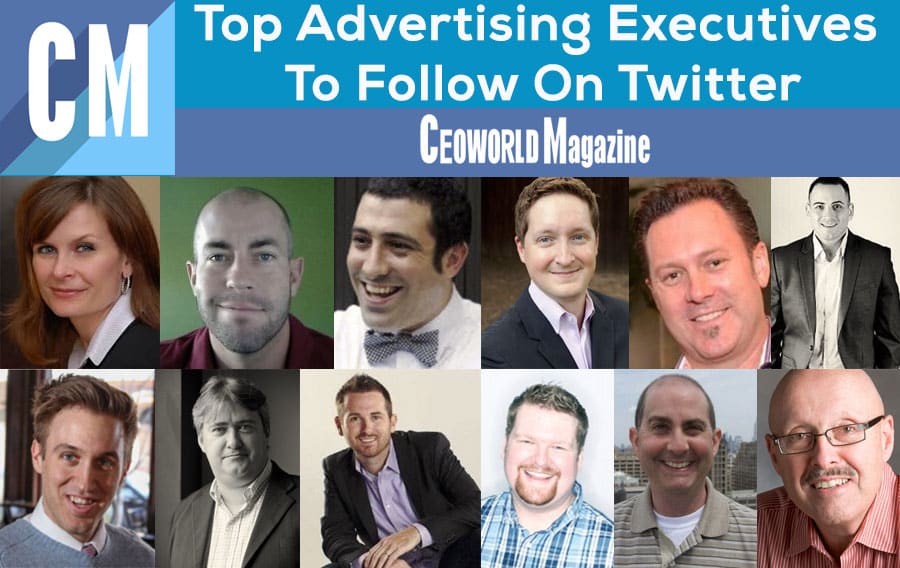 9. Danny Devriendt, Managing Director at UM, one of the leading authorities on Digital and Social Media and the predictive web in Europe. You can follow Danny Devriendt on Twitter @dannydevriendt.
10. Seth Simonds, Social Innovation Director at Mullen. You can follow Seth Simonds on Twitter @sethsimonds.
11. Matt Dickman, SVP, Global Digital/Social Strategy at MSLGROUP, leads global digital and social strategy for the agency's largest CPG client. You can follow Matt Dickman on Twitter @MattDickman.
12. Jeremy Goldman, Social Media Executive, Author, & Speaker, working with companies looking to take their operations online and inject "social" into their processes for over a decade. You can follow Jeremy Goldman on Twitter @jeremarketer.
13. Myles Bristowe, a marketing consultant dedicated to helping companies attract and nurture the customers they want. You can follow Myles Bristowe on Twitter @mylesbristowe.
14. John Sonnhalter, founder of, Sonnhalter, a marketing communications firm marketing to the professional tradesman in the construction, industrial and MRO markets. You can follow John Sonnhalter on Twitter @johnsonnhalter.
15. Cameron Gawley, co-founder and visionary of BuzzShift, a digital strategy agency for mid-sized and large brands, and co-founder of CherryPick, a content curation application for brands and bloggers. You can follow Cameron Gawley on Twitter @cgawley.
16. Stephanie Agresta, the senior most ranking digital executive at MSLGROUP, the 4th largest PR firm in the world. You can follow Stephanie Agresta on Twitter @stephagresta.
17. James Andrews, a U.S.-based entrepreneur with a huge passion and focus around digital culture, online communications and transmedia content. You can follow James Andrews on Twitter @keyinfluencer.
18. Michael Brito, Group Director, Media & Engagement at W2O Group. He helps his clients with content strategy, brand advocacy programs and social business initiatives. You can follow Michael Brito on Twitter @Britopian.
19. William Chamberlain, Director of Marketing, help integrate social media into the newest products and marketing initiatives, and to create personalized user experiences online that help to educate the user and allow them to develop a closer relationship and affinity with the brand. You can follow William Chamberlain on Twitter @chamberlainwill.
20. Aaron Strout, managing director at W2O Group. He leads the newly formed Social Commerce. You can follow Aaron Strout on Twitter @AaronStrout.
21. Jonny Longden, head of V.me Analytics at Visa Europe, a business analytics and strategy leader with over 13 years experience improving performance in e-business, product management, marketing and operations. You can follow Jonny Longden on Twitter @jonnylongden.
22. Lori Senecal, Chairman and CEO of kirshenbaum bond senecal + partners (kbs+). At kbs+, she has led a dynamic shift across the fully-integrated agency to pioneer a culture of invention that is focused on creating breakthroughs and "firsts" for brands and businesses.  You can follow Lori Senecal on Twitter @digitalori.
Do you think we missed someone who should be on this list? Tell us in the comments (below) or email at info@ceoworld.biz
---
Add CEOWORLD magazine to your Google News feed.
---
Follow CEOWORLD magazine headlines on:
Google News
,
LinkedIn
,
Twitter
, and
Facebook
.
---
Thank you for supporting our journalism. Subscribe here.
---
For media queries, please contact:
info@ceoworld.biz
---