Extraordinary Women Who Have Been Instrumental In Transforming The Tech World
In celebration of International Women's Day (March 8th), I would personally like to recognize and thank the women who have been instrumental in transforming the technology landscape – inspire me every day. And how do we attract and retain more involved, dynamic tech women?
To do this, we need to address the entire tech ecosystem. According to Telle Whitney, CEO and President of the Anita Borg Institute, a Palo-Alto non-profit that focuses on women in technology. "Women who rise to the top C-level have many of the same characteristics that any C-level executive would need — to be driven, focused on results and communicate well," she says.
If top-level women are a rare breed, female CEOs, CIOs, CTOs, VPs, COOs, etc are even rarer. Here is my List of women executives and tech legends – WHO INSPIRED ME.
Marissa Mayer –  chief executive officer of Yahoo! Inc.
Susan Wojcicki – CEO of Google's YouTube
Sheryl Sandberg – Facebook COO
Meg Whitman – Hewlett Packard CEO
Sarah Lacy – Pando Daily founder and chief
Kate Matsudaira – Popforms founder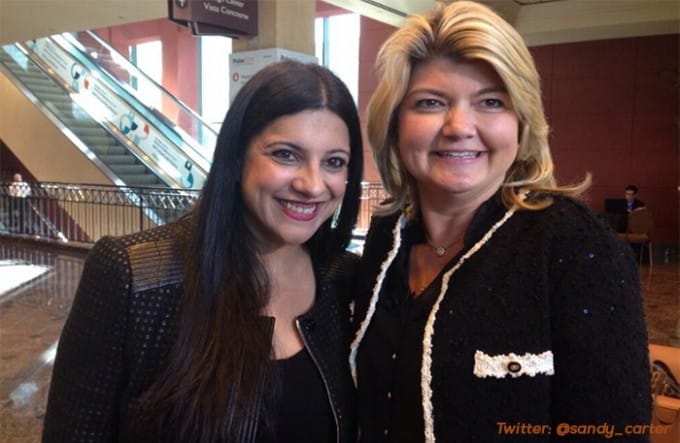 Sandy Carter – She is General Manager, Ecosystem Development and Social Business Evangelism at IBM, the global information technology giant. You can follow Sandy on twitter @sandy_carter.
Adda Birnir – Founder and CEO, Skillcrush, an interactive, community-driven tech-learning platform to increase your digital literacy and achieve your goals with technology. Prior to founding Skillcrush, Adda worked as a developer, building web applications for the New York Times, WNYC and ProPublica.
Libby Leffler – leads a global partnerships team at on Facebook and Instagram, she also manages partnerships at Facebook with public figures, athletes, musicians, and celebrities in India, Korea, Singapore, and Japan. Follow her on Twitter | Facebook | LinkedIn.
Rachel Sterne Haot – New York City's first-ever chief digital officer and Deputy Secretary of Technology. Follow her on Twitter | Linkedin.
Anastasia Leng – the Co-founder & Chief Business Officer of Hatch, follow her on Linkedin & @ponystasia.
Amanda Peyton – Co-Founder at Grand St., a marketplace for creative technology. Follow her on Twitter.
Roxanne Varza – Startup Evangelist at Microsoft. Follow her on Twitter.
Alexa von Tobel –  the founder and CEO of LearnVest. Follow her on Twitter | Linkedin.
Lisa Falzone – Co-Founder and CEO, Revel Systems, the award-winning leader in iPad point-of-sale (POS) systems for restaurant, retail and grocery. Follow her on Twitter | Linkedin | Facebook.
Kathryn Minshew and Alex Cavoulacos – Co-Founders and CEO, The Muse. Follow Kathryn Minshew, Founder & CEO (@kmin) | Alex Cavoulacos, Founder & COO (@acav) on Twitter.
Please share your thoughts here and via Twitter. I'm @ceoworld (I regularly post updates with articles and insights from others). Join me and thank the women who have inspired you!
Track Latest News Live on CEOWORLD magazine and get news updates from the United States and around the world. The views expressed are those of the author and are not necessarily those of the CEOWORLD magazine.
Follow CEOWORLD magazine headlines on:
Google News
,
LinkedIn
,
Twitter
, and
Facebook
.
Thank you for supporting our journalism. Subscribe here.
For media queries, please contact:
info@ceoworld.biz