How China Will Surpass The United States As The World's Top Spender On E-commerce?
The rapidly expanding online and mobile user bases in emerging world, headed by China and India will propel global e-commerce sales to $1.500 trillion this year. The prediction makes Asia-Pacific the largest e-commerce market in 2014.
After years of leading the world in e-commerce spending, US will soon give that title up to China. China, the world's most populous country, will overtake the United States to become the world's top spender on e-commerce, as early as 2016.
This is the first time in the history for E-Commerce, consumers in Asia-Pacific region will spend more on ecommerce purchases than those in North America, making it the largest regional ecommerce market in the world.
"Beginning in 2016, China will overtake the US in spending. Massive gains in China, as well as in India and Indonesia, will push Asia-Pacific's growth ahead," the research firm eMarketer said, adding, Argentina, Mexico, Brazil, Russia, Italy and Canada, will also drive e-commerce sales growth worldwide.
As Mike Duke, The former president and chief executive officer of Wal-Mart Stores, Inc rightly pointed out, "The biggest opportunity we have is winning the intersection between physical and digital retail around the world."
Here are some of the highlighted :
– The worldwide business-to-consumer (B2C) e-commerce sales will increase by 20.1% this year to reach $1.500 trillion
– This year alone, B2C ecommerce sales are expected to reach $525.16bn in the Asia-Pacific region, compared with $482.63bn in North America.
– Penetration will also be low in central and eastern Europe, Latin America and the Middle East and Africa.
– China will take in more than six of every 10 dollars spent on ecommerce in Asia-Pacific this year
– Here is a regional breakdown of worldwide online sales share :
1) Asia-Pacific
2) North America
3) Western Europe
4) Central and Eastern Europe
5) Latin America
6) Middle East and Africa
– The top 10 countries ranked by average e-commerce sales per online shopper, with their projected averages, are:
1) China
2) Indonesia,
3) India
4) Argentina
5) Mexico
6) Brazil
7) Russia
8) Italy
9) Canada
10) Spain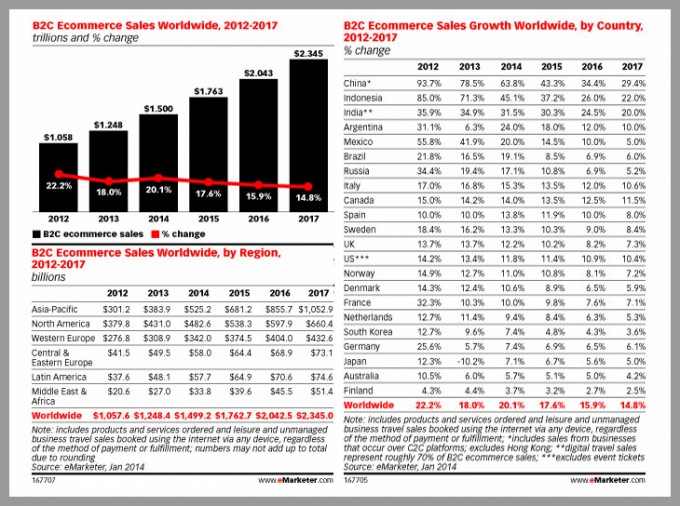 Dr. Amarendra Bhushan Dhiraj is the CEO and editorial director at CEOWORLD magazine, the leading global business magazine written strictly for CEOs, CFOs, top managers, company directors, investors, senior executives, business leaders, high net worth individuals, and the most globally powerful men and women.
Latest posts by Dr. Amarendra Bhushan Dhiraj
Leave a Reply