Top 10 Best Hollywood Action movies
1) Seven Samurai
Director: Akira Kurosawa
Stars: Toshirô Mifune, Takashi Shimura and Keiko Tsushima
The Seven Samurais is indeed one of the greatest movies ever made. Kurosawa has done brilliant work especially with the perfection in fight sequences which every director today wants to achieve but does not even get close to him. Further I would like to comment on the style that Kurosawa adopts while he plans out and details each character in his film. Every character has his/her style and depth that they are able to pull out in the movie which I don't think every director can demand and attain from his/her cast.
2) Goldfinger
Director: Guy Hamilton
Stars: Sean Connery, Gert Fröbe and Honor Blackman
This is another great James bond film and for all the same reasons it has lots of action in it Sean Connery does a great James bond it has good acting the actors are good it has a good screenplay for it the villains are good in it this is a great adaption of goldfinger. I can not get tired of watching goldfinger and there is no way that you can't have a good time watching goldfinger.
3) Raiders of the Lost Ark
Director: Steven Spielberg
Stars: Harrison Ford, Karen Allen and Paul Freeman
This is a film that despite being made nearly 30 years ago, hasn't aged and is still far more entertaining that most of the big budget tent pole movies being churned out today. Credit has to go to creators George Lucas and Larry Kasdan, but the real kudos have to go to Steven Spielberg and Harrison Ford for creating an new iconic action hero, and to holding the viewer spellbound with a exciting, amusing and emotionally involving movie, while at the same time paying homage to the Republic serials of the thirties, and elevating the action movie making spectacle much higher than the Bond movie franchise, which was the major action movie brand at the time.
4) Die Hard
Director: John McTiernan
Stars: Bruce Willis, Alan Rickman and Bonnie Bedelia
This is one of the best action movies ever made and should be considered as a lesson in "how to actually make a good action with lots of Bang Bang, without making fun of the audience." The problem with most movies like this is either that you from the beginning know how it will end, or that it takes a unbelievable turn that makes you cry out in pain.
5) Terminator 2: Judgment Day
Director: James Cameron
Stars: Arnold Schwarzenegger, Linda Hamilton and Edward Furlong
Written and directed of course by James Cameron, the 1991 sequel to The Terminator takes place eleven years on from its predecessor. In the aftermath of the 'Judgement Day' nuclear war, the self-aware computer giant Skynet initiates a paradoxical effort to once again attempt to eliminate the leader of the human resistance, John Connor.
6) 48 Hrs.
Director: Walter Hill
Stars: Nick Nolte, Eddie Murphy and Annette O'Toole
Despite how predictable and unrealistic 48 Hrs. was, I ended up loving it! I wanted to get the famous movies of Eddie Murphy into my movie comment collection. But also on my own, I wanted to see Beverly Hills Cop and 48 Hrs., because Eddie Murphy always makes me laugh in one way or another. He's done it again with his classic cop movie, 48 Hrs., and there is no doubt that he stole the show.
7) Way of the Dragon
Director: Bruce Lee
Stars: Bruce Lee, Chuck Norris and Nora Miao
Until recently I had not seen the full version of 'Way of the Dragon'(it was censored). However I have recently seen the full version of this film and can say it has the best fight scenes for Bruce, in all his films (not surprising as he directed it himself).
8) Hard Boiled
Director: John Woo
Stars: Yun-Fat Chow, Tony Leung Chiu Wai and Teresa Mo
Hard Boiled is one of the best action movies ever made. It is a; well scripted; well acted; well executed; action masterpiece. It includes multiple action sequences that are possibly some of the best action sequences in motion picture history.
9) Bullitt
Director: Peter Yates
Stars: Steve McQueen, Jacqueline Bisset and Robert Vaughn
All the great movie stars have one thing in common, one picture, that despite the greatness of all the rest, leaves their legacy. James Dean in Rebel Without a Cause, Errol Flynn in Robin Hood, MArlon Brando in On the Waterfront, Jack Nicholson in One Flew Over the Cukoo's Nest, I can go on… Bullit (1968) is Steve McQueen's legacy.
10) The Bourne Identity
Director: Doug Liman
Stars: Franka Potente, Matt Damon and Chris Cooper
From France, to Switzerland and the Czech Republic. "The Bourne Identity", does a wonderful job of using the scenery in creating dynamic, eye popping action. This is definitely one end of the spectrum in action movies. The European locations totally work for me, and the public in general, 'Ludlum' knew that Europe provides the most cultural and evocative of settings.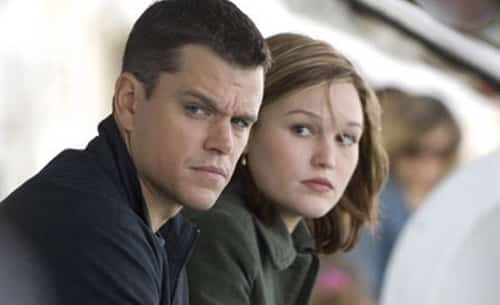 Please drop us comment which one is your favorite Action movies?
---
Add CEOWORLD magazine to your Google News feed.
---
Follow CEOWORLD magazine headlines on:
Google News
,
LinkedIn
,
Twitter
, and
Facebook
.
---
Thank you for supporting our journalism. Subscribe here.
---
For media queries, please contact:
info@ceoworld.biz
---