Hillary Clinton and Barack Obama are the most admired woman and man in the United States, according to a Gallup poll. The poll found 9% of Americans named Hillary Clinton as the woman they admired most, while 7% named Michelle Obama, putting her in second place.
Hillary Clinton and Michelle Obama were followed by Oprah Winfrey, with 4% of votes. Others on the top 11 list for women included Elizabeth Warren, Angela Merkel, Queen Elizabeth II, Condoleezza Rice, Melania Trump, Nikki Haley, Duchess Kate Middleton, and Beyonce Knowles.
Barack Obama was named the most admired man by 17% of respondents, compared to 14% who chose Donald Trump. Pope Francis also makes the list; he came third with 3%.
Which men and women do Americans hold in the very highest regard?
Most Admired Men In The United States Of 2017
Barack Obama (17%)
Donald Trump (14%)
Pope Francis (3%)
Rev. Billy Graham (2%)
John McCain (2%)
Elon Musk (2%)
Bernie Sanders (1%)
Bill Gates (1%)
Benjamin Netanyahu (1%)
Jeff Bezos (1%)
The Dalai Lama (1%)
Mike Pence (1%)
Most Admired Women In The United States Of 2017
Hillary Clinton (9%)
Michelle Obama (7%)
Oprah Winfrey (4%)
Elizabeth Warren (3%)
Angela Merkel (2%)
Queen Elizabeth II (2%)
Condoleezza Rice (1%)
Melania Trump (1%)
Nikki Haley (1%)
Duchess Kate Middleton (1%)
Beyonce Knowles (1%)
The Most Admired Men And Women In The United States Of 2017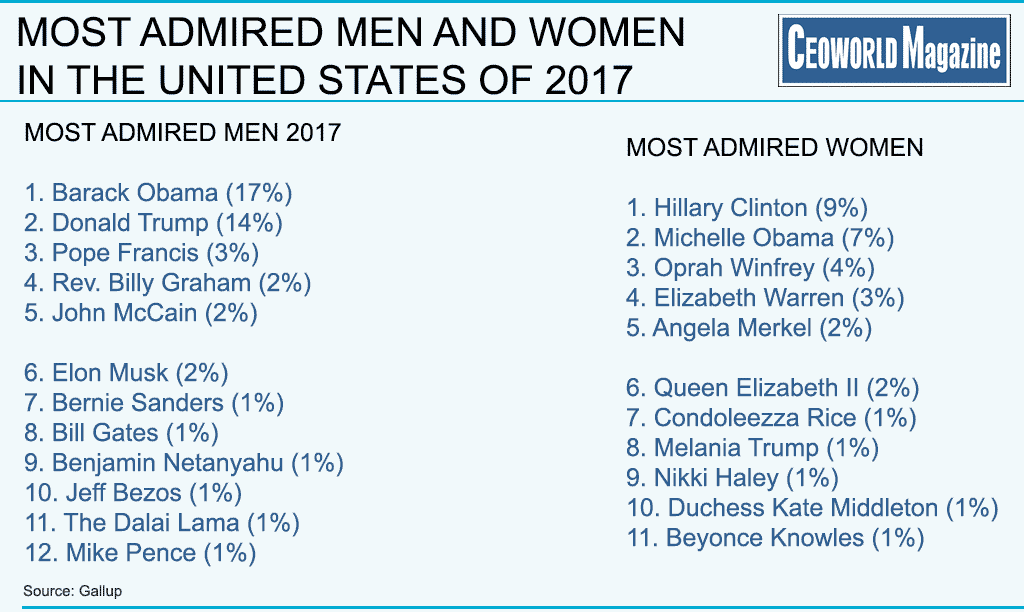 Dr. Amarendra Bhushan Dhiraj is the CEO and editorial director at CEOWORLD magazine, the leading global business magazine written strictly for CEOs, CFOs, top managers, company directors, investors, senior executives, business leaders, high net worth individuals, and the most globally powerful men and women.

Latest posts by Dr. Amarendra Bhushan Dhiraj
Leave a Reply
---