South Korea's eastern city of Gangneun tops the list of of trending destinations for short-term vacation rentals for 2018, according to Airbnb, followed by the seaside town of Bournemouth in the United Kingdom and Alberta's capital Edmonton.
Gangeung has seen an incredible 2,175% increase in bookings over the past year. Columbus, OH (254%) came in sixth on the trending destinations list, behind Indianapolis Columbus, OH (256%) and Vietnam's Da Nang Columbus, OH (255%).
The World's Top 20 Trending Destinations For Short-Term Vacation Rentals For 2018:
Gangneung, South Korea: 2,175%
Bournemouth, United Kingdom: 353%
Edmonton, Alberta, Canada: 284%
Indianapolis, United States: 256%
Da Nang, Vietnam: 255%
Columbus, OH, United States: 254%
Gazimagusa, Cyprus: 234%
Bilbao, Spain: 234%
Hanoi, Vietnam: 212%
Matinhos, Brazil: 209%
Cardiff, United Kingdom: 206%
Guarapari, Brazil: 205%
Minneapolis, United States: 193%
Oita, Japan: 190%
Dunedin, New Zealand: 185%
Mar del Plata, Argentina: 181%
Fernie, British Columbia, Canada: 179%
Zagreb, Croatia: 175%
Mykonos, Greece: 173%
Mazatlan, Mexico: 169%
What's been trending overall this year?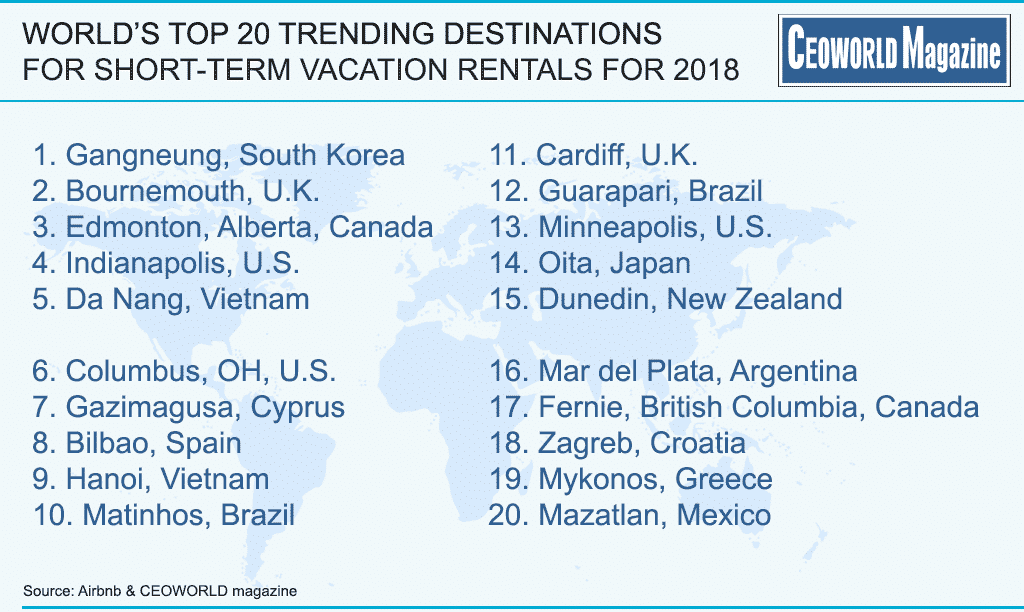 Dr. Amarendra Bhushan Dhiraj is the CEO and editorial director at CEOWORLD magazine, the leading global business magazine written strictly for CEOs, CFOs, top managers, company directors, investors, senior executives, business leaders, high net worth individuals, and the most globally powerful men and women.

Latest posts by Dr. Amarendra Bhushan Dhiraj
Leave a Reply
---