Hong Kong has supplanted London's West End as the world's most expensive office location in which to accommodate staff, according to Cushman & Wakefield study.
The average cost for operating an office space in Hong Kong has risen 5.5% to $27,432 per workstation per year, inclusive of taxes and service fees.
In contrast, London's office prices have fallen 19% since 2016 to $22,665 per workstation per year.
Tokyo maintained its rank as the third-most expensive location, while Fairfield County Connecticut in the U.S. comes in at the fourth position at $17,414 per workstation per year.
World's 10 Most Expensive Office Locations
Hong Kong
Cost: $27,432 per workstation per year
London West End, UK
Cost: $22,665 per workstation per year
Tokyo, Japan
Cost: $18,111 per workstation per year
Fairfield County, Connecticut, US
Cost: $17,414 per workstation per year
San Francisco, US
Cost: $16,205 per workstation per year
New York City, US
Cost: $15,931 per workstation per year
Silicon Valley, US
Cost: $15,004 per workstation per year
Geneva, Switzerland
Cost: $13,424 per workstation per year
Sydney, Australia
Cost: $11,997 per workstation per year
Paris, France
Cost: $11,756 per workstation per year
[Infographic: World's 10 Most Expensive Office Locations]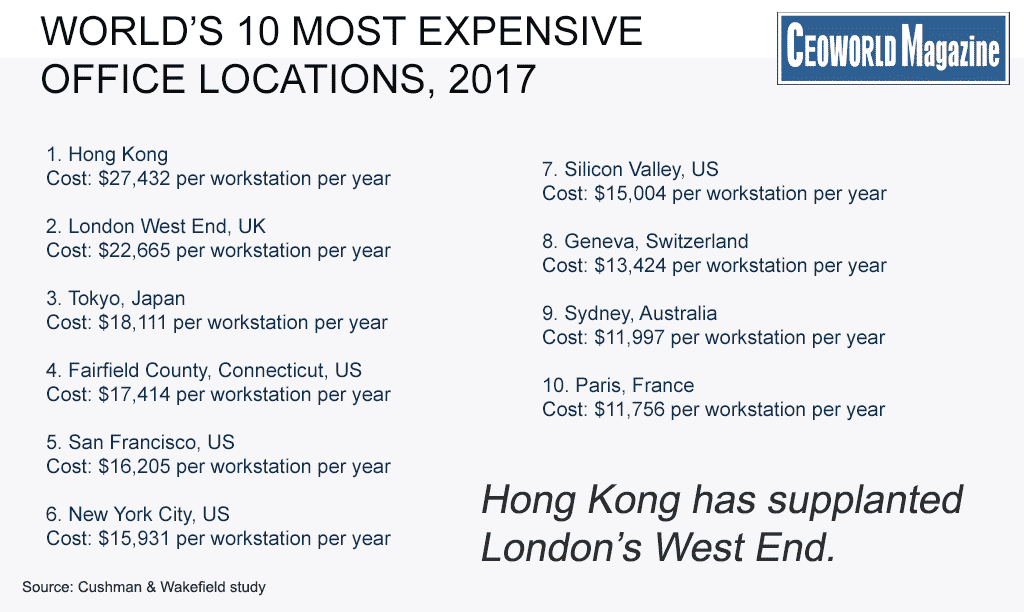 Leave a Reply