Well, If you are looking for the best destination to have Christmas vacation, look no farther. Roseann Lake and Laura Ma at CNN has listed down 15 of the most incredible destinations to have a Christmas vacation.
And guess what's sitting at the top of the list?
Yep, Malta.
From New York to Valkenburg in the Netherlands, a world of amazing Christmas celebrations awaits.
With their sparkle and cheer, these are the world's top 15 destinations with incredible Christmas celebrations.
The World's top 15 destinations with incredible Christmas celebrations
Malta
New York, US
Bath, England
Barcelona, Spain
Rovaniemi, Lapland, Finland
Nuremberg, Germany
Honolulu, Hawaii
Quebec City, Canada
Reykjavik, Iceland
San Miguel de Allende, Mexico
Salzburg, Austria
Santa Claus, Indiana
Strasbourg, France
Queenstown, New Zealand
Valkenburg, The Netherlands
Top 15 destinations with incredible Christmas celebrations: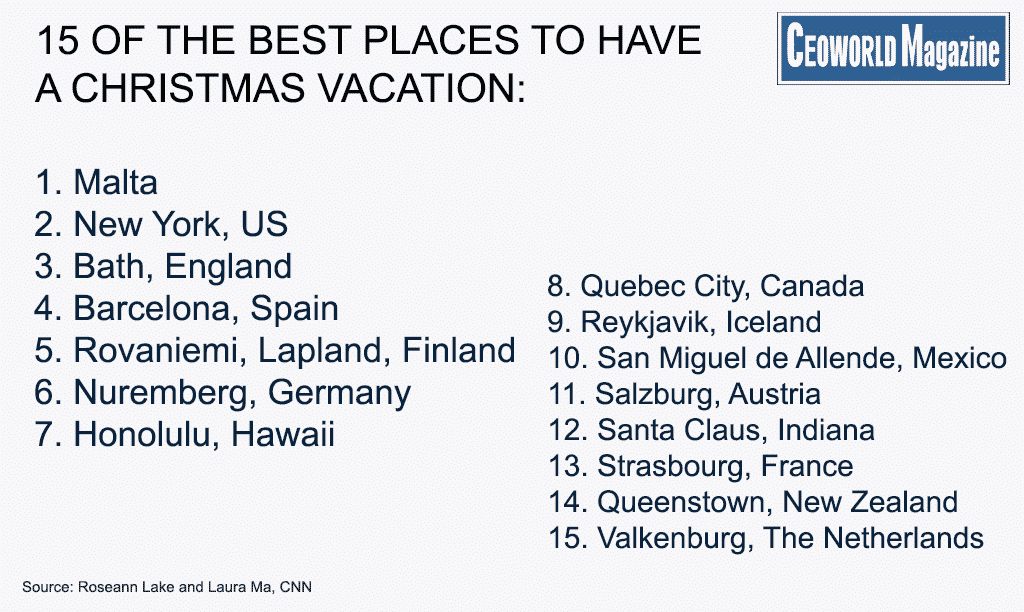 Leave a Reply