Beyonce jumped from number five last year to clinch the top spot in Forbes magazine's annual list of the highest earning woman in music for 2017.
She earned an estimated $105 million between June 1, 2016, and June 1, 2017.
Coming at number two is English singer Adele, who brought in an estimated $69 million – Taylor Swift, scored $44 million to reach No. 3.
At No. 4 is 49-year-old French-Canadian singer Céline Dion ($42 million).
The list is rounded out with appearances from the French-Canadian singer Céline Dion, Rihanna, J-Lo, and Britney Spears among others. Dropping off the list this year were Madonna and country star Shania Twain.
World's 10 highest earning woman in music for 2017
1. Beyoncé $105 million
2. Adele $69 million
3. Taylor Swift $44 million
4. Céline Dion $42 million
5. Jennifer Lopez $38 million
6. Dolly Parton $37 million
7. Rihanna $36 million
8. Britney Spears $34 million
9. Katy Perry $33 million
10. Barbra Streisand $30 million
World's 10 highest earning woman in music for 2017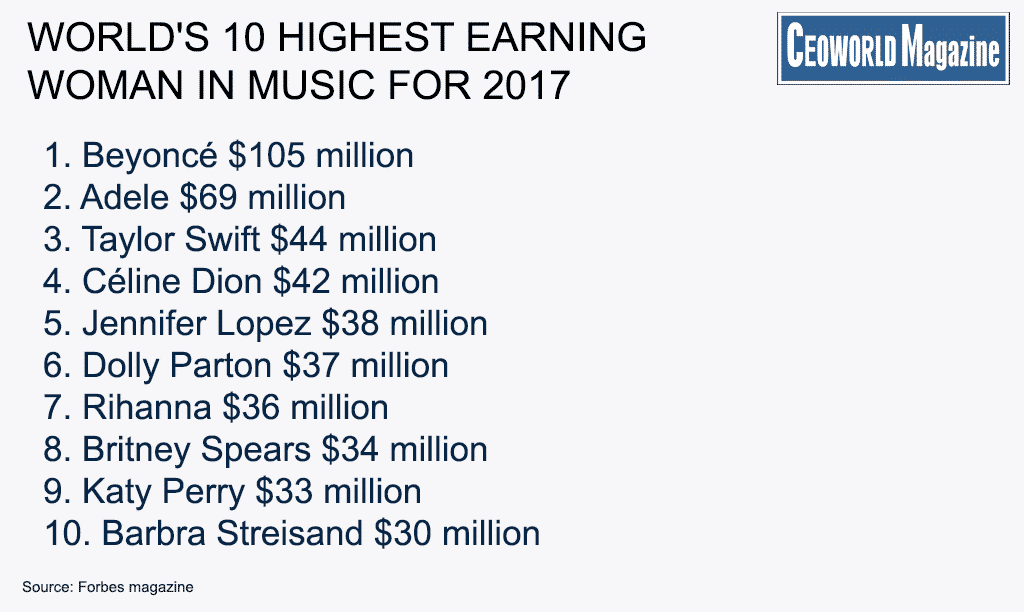 Leave a Reply