Switzerland ranked number 1 among the countries wherein citizens had the most confidence in their government, according to a report by the 'Government at a Glance' survey conducted by the Organisation for Economic Co-operation and Development (OECD).
Nearly 82 percent Swiss say they have confidence in their national government. The report ranks Indonesia second in the list, follwed by India, Luxembourg, and Norway.
With 64 percent of its people showing support towards its government, Canada has been ranked sixth in the list.
Turkey and New Zealand have finished 7th and 8th in the list, respectively, with 57 percent and 56 percent people showing confidence in their respective governments.
Australia, which has seen 5 prime ministerial changes in the last 10 years, has fared poorly with only 42 percent people expressing confidence in the government.
The survey asks the respondents a single question on whether they believe in their government or not, without specifying any part of the government.
World's Top 15 Countries With The Most Trusted Governments, 2017
Switzerland: 82%
Indonesia: 82%
India: 73%
Luxembourg: 68%
Norway: 66%
Canada: 64%
Turkey: 57%
New Zealand: 56%
Ireland: 56%
Netherlands: 56%
Germany: 53%
Finland: 49%
Sweden: 49%
Denmark: 45%
Australia: 43%
The countries that have experienced the greatest loss of trust are Chile, Finland, Greece and Slovenia.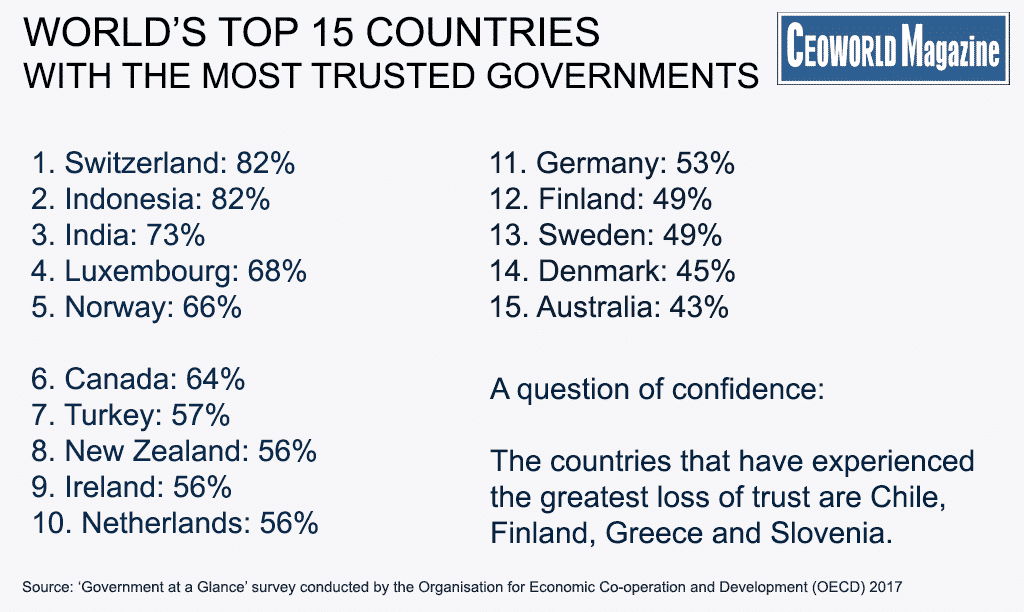 Executive features editor at The CEOWORLD magazine and lover of reality TV.I eat cereal for breakfast, lunch and dinner.
Latest posts by Megan Batchelor
Leave a Reply
---