No, that's not a typo. Founded in 2002, Elon Musk's SpaceX tops the list of the top 10 companies techies want to work the most, 2017. Google comes in second place overall and Toronto's e-commerce giant Shopify, ranks third.
The report by jobs platform Hired.com, which surveyed more than 2,000 tech employees to rank their interests in global tech brands on the basis of compensation and company culture did indeed rank Cloud-based communications platform Slack 6th in the world, just behind Tesla (4th) and Netflix (5th) and above firms such as Sydney-headquartered software giant Atlassian (7th) and Hulu, the streaming video service (8th).
Other companies making the list of top firms include Facebook and Lyft.
10 Technology Companies People Want To Work For Most
1. SpaceX, Los Angeles, US
2. Google, SF Bay Area, US
3. Shopify, Toronto, Canada
4. Tesla, SF Bay Area, US
5. Netflix, SF Bay Area, US
6. Slack, SF Bay Area, US
7. Atlassian, Sydney, Australia
8. Hulu, Los Angeles, US
9. Facebook, SF Bay Area, US
10. Lyft, SF Bay Area, US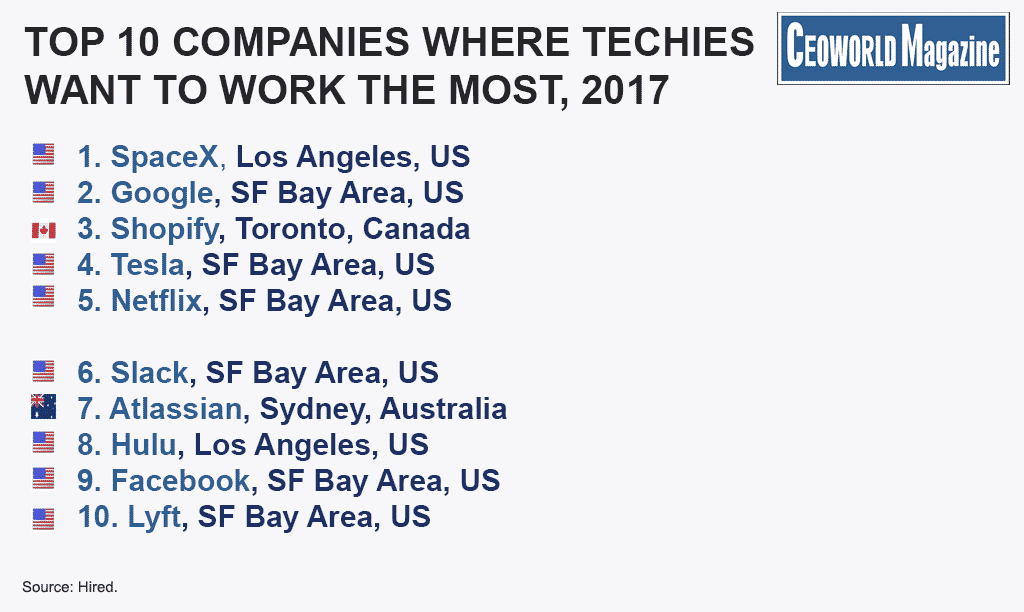 Editorial Aide/Reporter at The CEOWORLD magazine. Nationally Syndicated Advice Columnist. Generally prefer dogs to humans. Loves dragons. New Yorker.
Latest posts by Aimee Lee Webber
Leave a Reply
---