Are very active on YouTube? Do you take YouTube marketing channel seriously? So this guide will help you to generate more leads and conversions with YouTube?
I am going to discuss about the organic tactics to help boost the performance of your existing video content.
In this article, you'll get the knowledge of three effective advance ways to generate leads using YouTube.
Before starting, let me explain you about YouTube.
Effective Advance Ways to Generate Leads Using YouTube
#1: YouTube Cards
If you are a marketer you know the value of Call to Action (CTA). YouTube cards features are like a key concept for all the marketers. This feature provides you additional interactivity to the videos you upload. With this feature, you can add a call to action (CTA) to your videos with a link.
We all know mobile users are actively increasing day by day. So, this advance feature was created for mobile users. It's responsive for all the devices.
The key point of this feature is that you can send your mobile YouTube viewers to your website.
Look at the profile of music producer and artist Chris Robley. He uses a YouTube card feature to promote his other YouTube videos.
Adding YouTube Cards to your video is very easy. You just need to follow simple steps.
Steps to Add Cards
Go to your YouTube Channel account
Click Video Manager and find the video for which you want to add the card
Below to your selected video, click the arrow button next to Edit and select Cards feature from the drop-down list.
On the next page, click Add Card and you can decide which type of card you want to add to your video. Click create next to the card you want to add.
After choosing select a card type, customize your card in the pop-up window that appears. If you select Link cards option, add the authorized URL you want to promote with catchy CTA.
#2: End Screen & Annotations
End Screen is one of the very interesting advance feature in YouTube marketing. It's a mobile responsive YouTube feature that allows you to end your videos with a CTA(Call to Action). By using this feature you can encourage your viewers to hit the Subscribe button for your YouTube channel and promote your products, services, or website.
Just remember one important thing before using this feature.
To add an end screen in your video it must be at least 25 seconds long because the end screen will appear in the final 5-20 seconds of the clip.
Just focus on the below paragraph……….
The great British comedian is not a marketer but still, he is using the end screen feature to promote another video on his channel. He uses his marketer's brain and includes relevant information for the viewers to find his another social media channels and website.
As you can see in the above photo, He uses his website and other social media channels by using End Screen feature.
Steps to End Screen & Annotations
Adding YouTube End Screen feature to your video is very easy. You just need to follow simple steps.
Go to your YouTube Channel account
Click Video Manager and find the video which you want to use
Below to your selected video, click the arrow button next to Edit and select End Screen & Annotations from the drop-down list.
After clicking the End screen & Annotations feature, You have some options to build your end screen. The first option is basic i.e predefined themes which includes all the elements.

(Sample Template)
If you want to choose some more patterns of the template? Click the Use Template Button, Select one of the available templates and customized according to your requirement.
The second method to add an end screen in your video to import from one of your previous videos. Simply, Click the Import From Video button and choose your published clip. Then customize as needed.

The third and last method for creating an end screen for your video. Go to the Add Element and select the elements which you want to add. You can't include more than four elements. In every element, you need to fill in the necessary details and click Create Element.
#3: Generate Leads via Search
As we all know Google updates their search algorithms for improving the search quality. Generating organic search result is really important for all the marketers. So, in YouTube, you can generate quality traffic for your website. YouTube is a great platform to boost your brand, service or product. Most of the famous B2B organizations also use YouTube marketing for promotion.
You just need to follow some simple things for promoting your organization on YouTube.
The detailed and informational video with meaningful description has a better chance of ranking for relevant web searches. Keywords play an important role for searching relevant video on the google search. So, never forget to use relevant keywords in your video Title or Description.
A long video description isn't just about long-tail keywords. It can increase the possibility to rank your video for many possible related searches.
Always try to write a lengthy and informational description with multiple relevant keywords variations. First few lines are very important, it's must be interesting and must grab user's attention. For the promotion perspective, you can also include a link to your website in the description.
This YouTube video description from McDonald's includes a detailed explanation of the video, links to other videos on McDonald's YouTube channel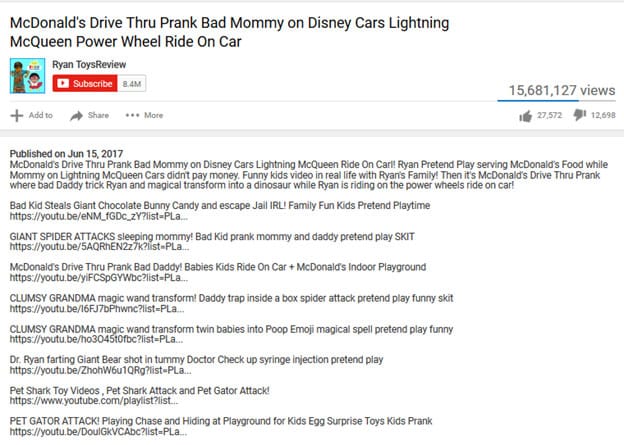 I hope these 3 tactics will help you to drive traffic to your website from YouTube, generate leads using YouTube, increase the number of video viewers.
I hope this blog was useful. If you have any questions, please drop in your comments. Thank you for reading.
Harmeet Singh is a digital marketing expert and works at Quovantis Technologies, which is a product design and development company.
Latest posts by Harmeet Singh
Leave a Reply
---