Sorry, Harvard, Stanford, and Caltech. This week, Massachusetts Institute of Technology (MIT) was named the No. 1 college in the United States by WalletHub study, beating out institutions like Columbia, UC Berkeley, Duke, and Dartmouth.
Princeton University ranked number 2 on the list, followed by Harvard University and Stanford University, and California Institute of Technology (Caltech).
Magazine named Yale University as number six on the list, followed by Duke University, and the University of Pennsylvania.
Columbia University and Rice University round out the list at nine and ten, respectively.
The research firm focused on 26 key categories at roughly 1,000 institutions across the country. They calculated student selectivity, cost, career outcomes and post-attendance median salary.
Top 20 Colleges & Universities in America, 2018
Massachusetts Institute of Technology (MIT)
Princeton University
Harvard University
Stanford University
California Institute of Technology (Caltech)
Yale University
Duke University
University of Pennsylvania
Columbia University
Rice University
University of California–Berkeley
Harvey Mudd College
Johns Hopkins University
Brown University
Pomona College
University of Notre Dame
Dartmouth College
Vanderbilt University
Williams College
University of Chicago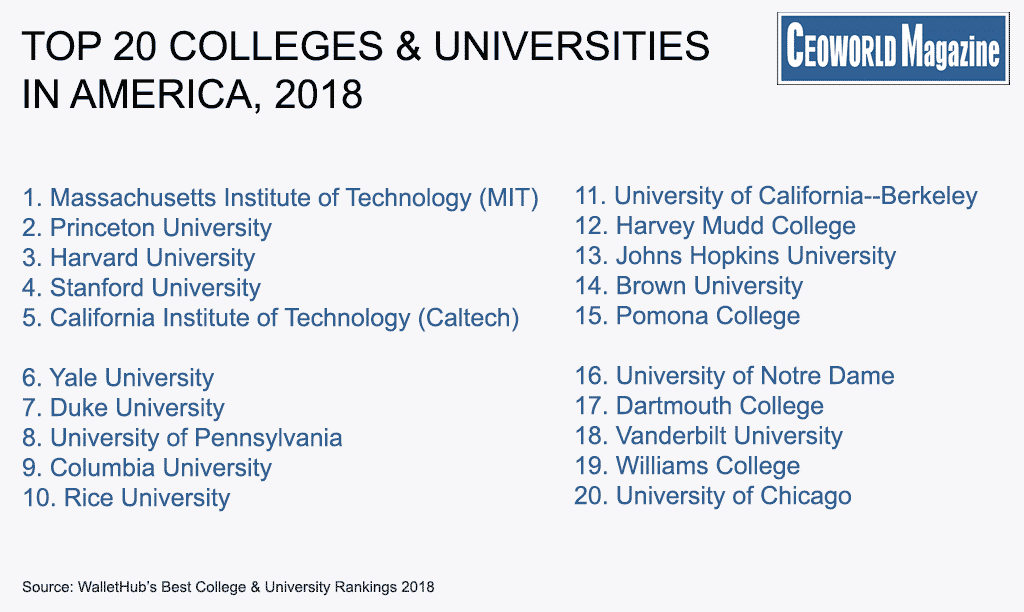 Dr. Amarendra Bhushan Dhiraj is the CEO and editorial director at CEOWORLD magazine, the leading global business magazine written strictly for CEOs, CFOs, top managers, company directors, investors, senior executives, business leaders, high net worth individuals, and the most globally powerful men and women.

Latest posts by Dr. Amarendra Bhushan Dhiraj
Leave a Reply
---