Shenzhen-based tech firm Tencent was ranked as number one internet company in China, according to a list jointly released by the information center of Industry and Information Technology Ministry and Internet Society of China.
Alibaba, was listed second among the top ten internet behemoths, followed by Baidu, China's main search engine; JD.com; and NetEase as the 3rd, 4th, and 5th respectively. These five companies today practically run Chinese internet.
Meet China's Internet Behemoths: The Top 10 Internet Companies In China, 2017
Tencent Holdings Ltd
Alibaba Group
Baidu Inc
JD.com Inc
NetEase Inc
Sina Corp
Sohu.com Inc
Meituan-Dianping
CTRIP.com
Qihoo 360 Technology Co Ltd
The ranking is determined by weighing average scores for each company based on size, social impact, growth potential and social responsibility.
Infographic: The Top 10 Internet Companies In China 2017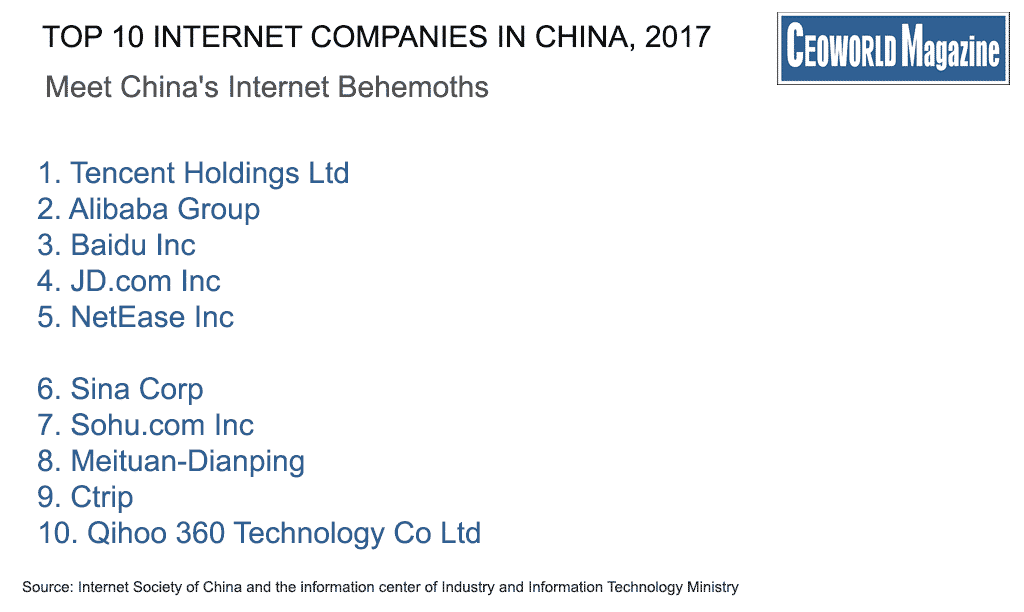 Dr. Amarendra Bhushan Dhiraj is the CEO and editorial director at CEOWORLD magazine, the leading global business magazine written strictly for CEOs, CFOs, top managers, company directors, investors, senior executives, business leaders, high net worth individuals, and the most globally powerful men and women.

Latest posts by Dr. Amarendra Bhushan Dhiraj
Leave a Reply
---