These most common unconscious biases can unknowingly influence our thinking and prevent us from making the best-decision. We often resort to preconceived opinions, but few of us even know they exist. Please avoid these instinctive behavioural biases by verifying facts you're given.
40 Of The Most Common Unconscious Biases That Can Lead To Bad Decision-Making
Availability heuristic bias.
Attentional bias.
Bandwagon effect.
Belief bias.
Blind-spot bias.
Confirmation bias.
Choice-supportive bias.
Clustering illusion.
Conservatism bias.
Cross-race effect bias.
Egocentric bias.
Empathy gap.
Familiarity bias.
First-impression bias.
Hindsight bias.
Illusion of control bias.
Illusion of validity bias.
Illusory of truth bias.
Illusory superiority bias.
Information bias.
Negativity bias.
Ostrich effect.
Overconfidence bias.
Outcome bias.
Placebo effect.
Personification bias.
Pro-innovation bias.
Regret aversion bias.
Restraint bias.
Rush-to-solve bias.
Self-attribution bias.
Selective perception.
Stereotypical bias.
Survivorship bias.
System justification.
Time-saving bias.
Trend-chasing bias.
Worse-than-average effect.
Zero-risk bias.
Zero-sum bias.
40 Of The Most Common Unconscious Biases That Can Lead To Bad Decision Making [Cool Infographic]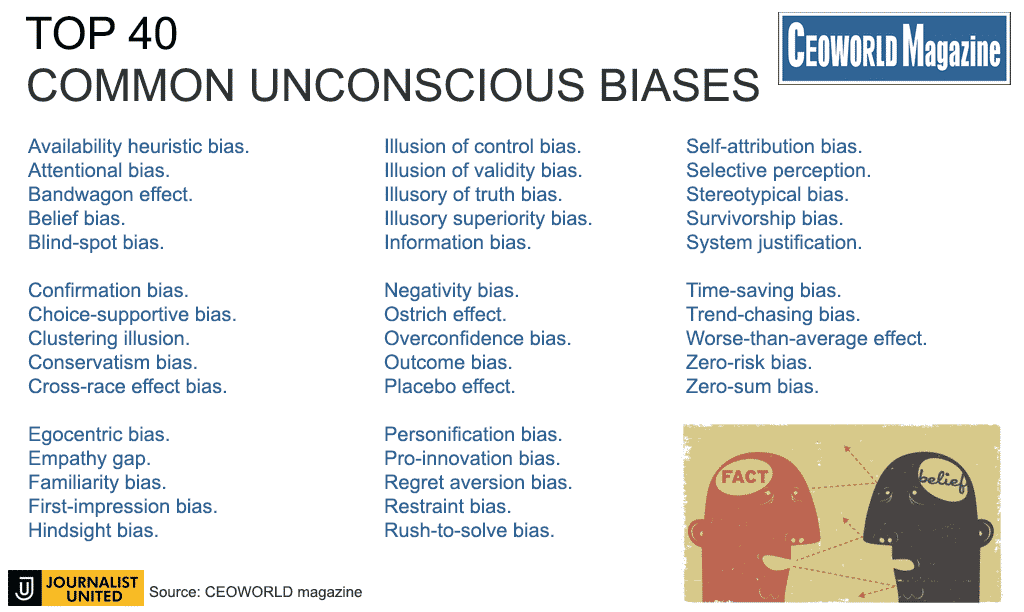 Can you think of any other examples? Let us know below!

Dr. Amarendra Bhushan Dhiraj is the CEO and editorial director at CEOWORLD magazine, the leading global business magazine written strictly for CEOs, CFOs, top managers, company directors, investors, senior executives, business leaders, high net worth individuals, and the most globally powerful men and women.

Latest posts by Dr. Amarendra Bhushan Dhiraj
Leave a Reply
---