If San Franciscans didn't have enough reasons to boast about their city, Business Insider just gave them another huge bragging right. The prominent business news website ranked San Francisco as the "most high-tech city in the world."
The list puts New York at the No. 2 spot. The city of London came in at number 3, beating out Los Angeles (No.4), Seoul (No.5), and Taipei (No. 6) among others.
Take a look at the 25 locales, and pick out which one you're travelling to next.
The list, compiled by Business Insider and research firm 2thinknow, analyses the 85 most technologically advanced cities in the world based on 10 factors, including the number of patents filed per capita, startups, tech venture capitalists, rankings in other innovation datasets, and the level of smartphone use.
The Top 25 Most Technologically Advanced cities In The world, 2017:
San Francisco, California, US
New York, US
London, UK
Los Angeles, California, US
Seoul, South Korea
Taipei, Taiwan
Boston, Massachusetts, US
Singapore
Toronto, Canada
Chicago, Illinois, US
Dallas-Fort Worth, Texas, US
Tokyo, Japan
Stockholm, Sweden
Vancouver, Canada
Amsterdam, the Netherlands
Beijing, China
Shanghai, China
Montreal, Canada
Bangalore, India
Shenzhen, China
Berlin, Germany
Hong Kong, China
Copenhagen, Denmark
Barcelona, Spain
Washington, DC, US
Infographic: The 25 most high-tech cities in the world for 2017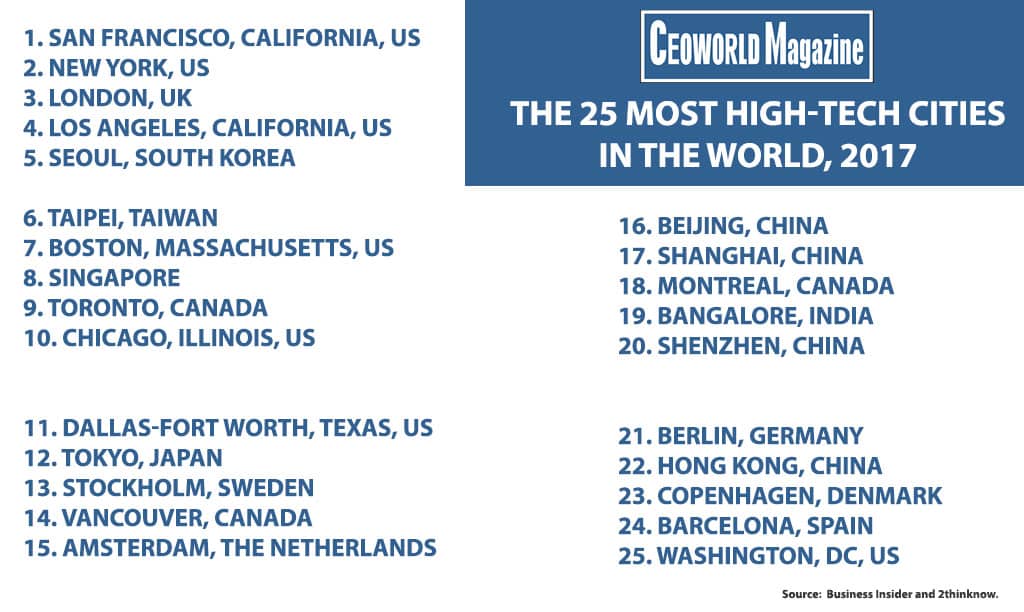 Leave a Reply