Tesla Motors and SpaceX's Elon Musk, Mu Sigma's Dhiraj Rajaram, Uber's Garrett Camp, Bloom Energy's KR Sridhar, and Palentir's Peter Thiel.
What do they all have in common?
They are all founders or co founders of startups achieved billion-dollar-plus valuations. They are also all immigrants. And they are not the only ones who's created billion-dollar startups, so-called unicorn startups.
Acording to a report, by the National Foundation for American Policy — 44 of the 87 American startups with billion-dollar-plus valuations (51%) had at least one immigrant co-founder.
The research finds that if you put those 44 startup companies together, and they're worth a collective $168 billion, which is close to half the value of the stock markets of Mexico or Russia.
Immigrant Founders of Billion Dollar Startup Companies – Country of Origin
India topped the new list, with 14 of the billion-dollar startup founders hailing from the country, and Canada and the U.K. tied for second place, with eight each.
India 14
Canada 8
UK 8
Israel 7
Germany 4
China 3
France 2
Ireland 2
Armenia 1
Azerbaijan 1
Argentina 1
Egypt 1
Holland 1
Iraq 1
Norway 1
Russia 1
Singapore 1
South Africa 1
South Korea 1
Uzbekistan 1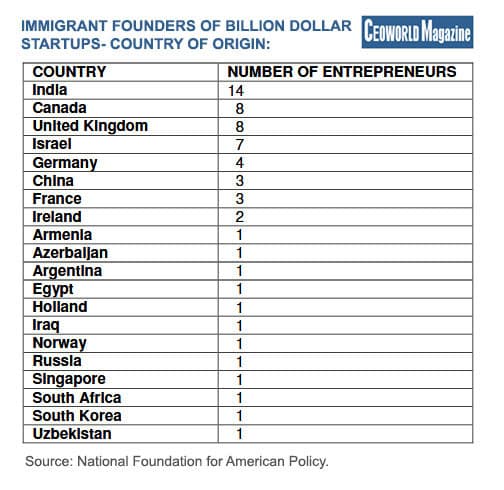 Most jobs created among immigrant-founded billion dollar companies:
The foreign-born entrepreneurs also create an average of approximately 760 jobs per company in the U.S., the study says. For example:
1. SpaceX
Number of employees: 6,000+
Founder: Elon Musk (South Africa)
2. Mu Sigma Inc.
Number of employees: 3,500+
Founder: Dhiraj Rajaram (India)
3. Palantir Technologies, Inc.
Number of employees: 2,000+
Founder: Peter Thiel (Germany)
4. Zenefits
Number of employees: 1,465+
Founder: Laks Srini (India)
5. Bloom Energy
Number of employees: 1,200+
Founder: K.R. Sridhar (India)
6. WeWork
Number of employees: 1,200+
Founder: Adam Neumann (Israel)
7. Apttus
Number of employees: 1,100+
Founder: Kirk Krappe (UK)
8. Cloudera
Number of employees: 1,100+
Founder: Amr Awadallah (Egypt)
9. AppNexus
Number of employees: 1,000+
Founder: Mike Nolet (Holland)
10. AppDynamics
Number of employees: 900+
Founder: Jyoti Bansal
11 Uber
Number of employees: 6,700 (direct employees). Over 162,000 active drivers.
Founder: Garrett Camp (Canada)
Note: For its paper, NFAP gathered information on the 87 U.S. startup companies valued at over $1 billion (as of January 1, 2016) that are yet to be publicly traded on the U.S. stock market.

Dr. Amarendra Bhushan Dhiraj is the CEO and editorial director at CEOWORLD magazine, the leading global business magazine written strictly for CEOs, CFOs, top managers, company directors, investors, senior executives, business leaders, high net worth individuals, and the most globally powerful men and women.

Latest posts by Dr. Amarendra Bhushan Dhiraj
Leave a Reply
---