Distance may make the heart grow fonder, but in the business world, mismanaging overseas employees can drive a dagger through a company's hopes of long-term success.
In today's global-driven economy, many CEOs frequently find themselves challenged when managing a workforce scattered across multiple countries and continents. Different cultures, languages, and experiences can blur the company's vision of all employees working toward a common purpose.
A company's success or failure hangs in the balance, but you can take steps to help your employees be their best — whether they're working from a mechanical standing desk in San Francisco, a cubicle in Hong Kong, or a hammock in Bali.
The Pitfalls of Managing Scattered Employees
CEOs easily grasp the advantages — such as access to the best global talent and additional revenue streams — of reaching audiences beyond their traditional borders, but they often overlook the potential stumbling blocks created by a dispersed employee base.
When employees are spread across the globe, the necessary communication and coordination between work groups can decline or stop altogether. Morale can be hurt when one group senses its opinions and efforts don't matter or aren't viewed as positively as another group's. Cultural or language differences can result in misunderstandings of key messages or priorities. "Out of sight" frequently gives way to "out of mind."
If CEOs don't engage remote employees in what's critical to their firms' success, they'll face increasing turnover and dwindling employee satisfaction. That translates to lower customer satisfaction scores, poorer employee attendance and performance, reduced product quality, and bad press. Even some of the world's top companies have been guilty of mistreating their "distant" workers.
Sears, for example, was found in 2012 to be outsourcing clothing production to a Bangladesh factory that caught fire, killing 112 people. And years earlier, it placed outsourced workers in a Samoan factory, where they received minimal food, had their electricity shut down for complaining about poor work conditions, and took steep pay cuts for the smallest of infractions.
Although Sears' indiscretion falls on the more severe end of the spectrum, other instances — though of a lesser magnitude — have certainly occurred.
After Yahoo's president, Marissa Mayer, axed employees' ability to work remotely, some suggested part of the reason was that resentment had blossomed among workers in Yahoo's location-based offices: "When a company doesn't fully embrace a remote workplace but tries to implement it anyway, there are internal objections."
And while our first inclination for this resentment may be a perceived lack of productivity, poor culture, or insufficient face-to-face communication, it may actually be more about control and trust issues among management. On-site employees may resent those who get to work from their couches, wondering, "What makes them so special?" These feelings are harmful to both remote and on-site employees.
CEOs must learn from these mishaps. It's possible to thrive in a global work environment, but not if you let the needs of overseas workers fall by the wayside.
Communication, Collaboration, Validation
When you mentor and develop your employees, survey them about their satisfaction levels, and offer them fair pay and benefits regardless of where they are located, they will go the extra mile for your company. Here are five tips you can use to treat your overseas or remote employees as well as you treat those in your home office:
Embrace cultural differences. Instead of forcing a one-size-fits-all culture within your company, strive to understand what makes your employees different. Explain your culture and approach, but allow overseas employees to absorb it and interpret what it means to them.

Different cultures have different ideas and ways of looking at challenges. They can propose solutions you would have never thought of, and you can derive new ways of working as a team from them. Why not make the most of all resources available to you?

In addition, encourage your at-home employees to consider international assignments. Emphasize the financial and cultural benefits such an assignment can bring to the employee and his family. Provide cultural awareness training so the employee can more easily adapt to his or her new environment.
Create complex reporting structures. I know this sounds crazy, but this doesn't mean you make things more complicated. Rather, it translates to ensuring each employee reports to a local person, even if that local person resides elsewhere in your corporate structure.

At TaskUs, our vice president of business development, Anna, reports to a senior vice president of sales. She is based in the Philippines, and the SVP resides in Dallas. However, Anna reports to a local manager in Southeast Asia and participates in all local executive meetings and team activities. Instead of feeling isolated, she experiences a sense of belonging to a local team.

Is it tougher to manage our chain of command this way? Yes, but it's worth it in the end.
Share successes across the enterprise. When you meet an essential goal or close an important deal, let your employees celebrate that win. And don't limit celebrations to one location; celebrate in all international locations, too.

Coordinate common themes and decorations across your offices. Share photos and posts of your parties on your company's social media pages. Make all employees feel like they're part of your company's success.

Using tools like Slack for cross-cultural communication or even recognition software like Bonus.ly is a great way to leverage technology to bridge the gap.
Travel to different sites. You need to be visible to all employees. Visit international sites, and encourage your executives based in other countries to visit your local sites. Putting a name with a face breaks down the barriers distance can create.

These visits go a long way toward helping overseas employees understand your messages and expectations. And you get to see their environment and work styles, which helps you relate better to them. Traveling to these sites makes everyone feel like they're part of something bigger, which is what you're striving to achieve.
Host joint planning sessions. Let all employees participate in your goal-planning process. Establish overarching goals for your company, as well as more granular goals for departments and individuals. When your employees are actively involved in the planning, they're more likely to ensure your goals are accomplished. To put it simply, satisfied employees perform better.

At TaskUs, we host quarterly planning sessions to establish company and corporate goals. All employees collaborate on the goals and how they can work to help reach them. The sessions typically last all day, but the effort is well worth it.
It's not easy to manage employees in multiple locations, especially when they reside across oceans or on opposite sides of the globe. But with readily available technology such as video conferencing (and by reaching out as the CEO), you can shorten the physical and emotional distance these employees might be experiencing and reap the full benefits of a global presence.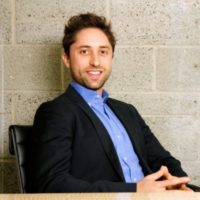 Co-founder and president
at
TaskUs
Jaspar Weir is co-founder and president of TaskUs, the leading provider of customer care and back-office outsourcing, which was grown to 8,000 full-time workers. In 2016, Jaspar appeared on Inc.'s 30 Under 30 list.
Leave a Reply
---