Norway is ranked number 1 out of 162 countries and Hong Kong, when it comes to using economic growth to improve the wellbeing of its citizens, according to a report by the Boston Consulting Group.
Would it surprise you one bit if I were to tell you they were all in Western Europe?
Robert F. Kennedy once said that a country's GDP, or "Gross Domestic Product" measures "everything except that which makes life worthwhile."
Netherlands and Finland are the next best performing countries, followed by Germany and Austria.
The list includes some of the wealthiest countries in the world, such as Norway, Switzerland, Sweden and Luxembourg. The report, however, did find that the entire top ten is made up of countries from Western Europe.
Which country is the best at using economic growth to improve the wellbeing (making the most of your money for the benefit of your citizens) of its citizens?
1. Norway
2. Netherlands
3. Finland
4. Germany
5. Austria
6. Denmark
7. Switzerland
8. Iceland
9. Belgium
10. Sweden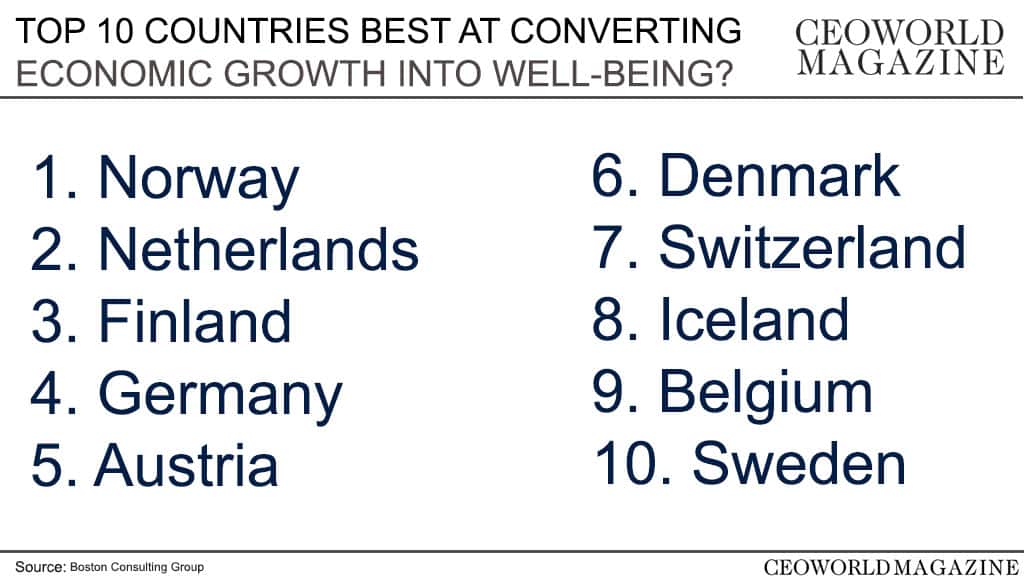 When it comes to those countries that have made the least progress since 2006 in converting economic growth into well-being, the results are much more interesting.
1. Greece
2. Cyprus
3. Italy
4. Central African Republic
5. Barbados
6. Hungary
7. Brunei
8. Finland
9. Spain
10. France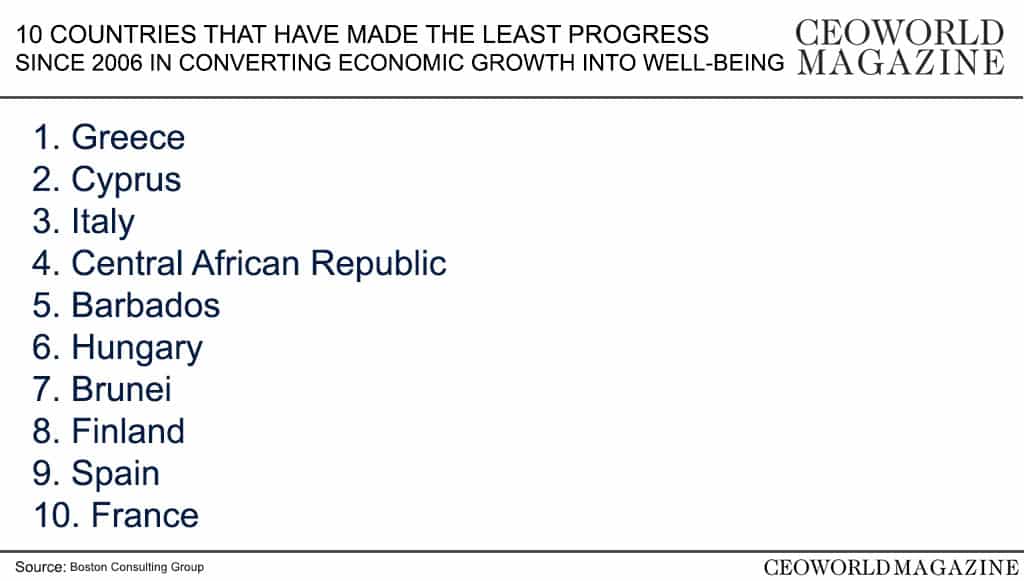 Dr. Amarendra Bhushan Dhiraj is the CEO and editorial director at CEOWORLD magazine, the leading global business magazine written strictly for CEOs, CFOs, top managers, company directors, investors, senior executives, business leaders, high net worth individuals, and the most globally powerful men and women.

Latest posts by Dr. Amarendra Bhushan Dhiraj
Leave a Reply
---