Ever wondered which aerospace and defense companies make the most money?  It's no surprise that the Chicago-based Boeing topped the list of the world's 20 largest aerospace and defense companies as measured by 2015 revenue, according to a recent study by Deloitte, followed by other industry behemoths such as Airbus Group (No. 2) and Lockheed Martin (No. 3).
The future looks promising for the biggest players from the aerospace & defence (A&D) sector, as industry's revenues grew 3.8% to $674.4 billion in 2015 from $649.7 billion in 2014.
You know what they say: size matters.
The Boeing Company earned revenues of $96.114 billion, while the European aerospace and defence conglomerate Airbus Group earned revenues of $71.611 billion.
The World's 20 Largest Aerospace And Defense Companies As Measured By 2015 Revenue
1. The Boeing Company $96.114 billion
2. Airbus Group SE $71.611 billion
3. Lockheed Martin $46.132 billion
4. General Dynamics $31.469 billion
5. United Technologies $27.797 billion
6. BAE Systems $25.826 billion
7. GE Aviation $24.660 billion
8. Northrop Grumman US$23.526 billion
9. Raytheon US$23.247 billion
10. Safran US$20.111 billion
11. Leonardo–Finmeccanica US$14.439 billion
12. Thales Group US$13.850 billion
13. Rolls-Royce US$13.797 billion
14. Honeywell Aerospace US$12.276 billion
15. L-3 Communication US$10.466 billion
16. Bombardier Aerospace $9.891 billion
17. Textron $9.796 billion
18. Mitsubishi Heavy Industries Aerospace $8.540 billion
19. Huntington Ingalls Industries $7.020 billion
20. Precision Castparts Corp. $6.877 billion
*Click below to enlarge (charted by the CEOWORLD magazine)
The World's 20 Largest Aerospace And Defense Companies As Measured By 2015 Revenue [Infographic]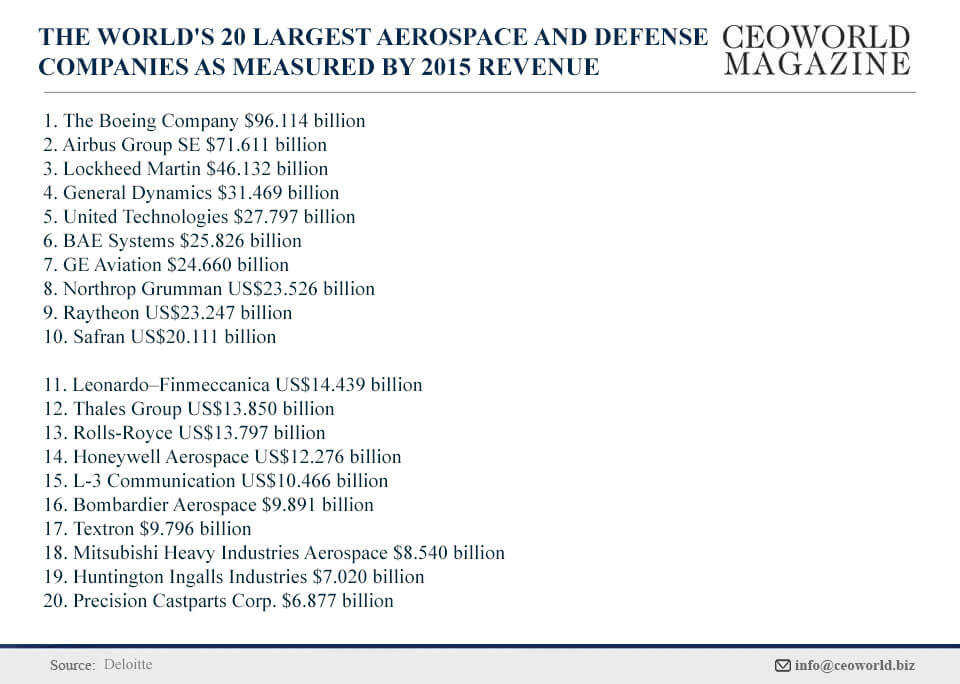 Dr. Amarendra Bhushan Dhiraj is the CEO and editorial director at CEOWORLD magazine, the leading global business magazine written strictly for CEOs, CFOs, top managers, company directors, investors, senior executives, business leaders, high net worth individuals, and the most globally powerful men and women.

Latest posts by Dr. Amarendra Bhushan Dhiraj
Leave a Reply
---