Rankings Insider
World's Top 20 Cities Most Vulnerable To Coastal Flooding By 2070
Unfortunately, India's Kolkata and Mumbai top the list of cities whose populations are most exposed to coastal flooding, with 14 million and 11.4 million respectively, according to new study on climate change, published by the UK based Christian Aid charity.
Bangladesh's Dhaka will sit in close 3rd place with 11.1 million, followed by Guangzhou in China, Ho Chi Minh City in Vietnam, Shanghai in China, and Bangkok in Thailand. Most of these cities are in India, China, and the United States.
By the year 2060, a dangerous mix of rising sea levels and extreme weather is set to expose more than a billion people – about a seventh of the world's population.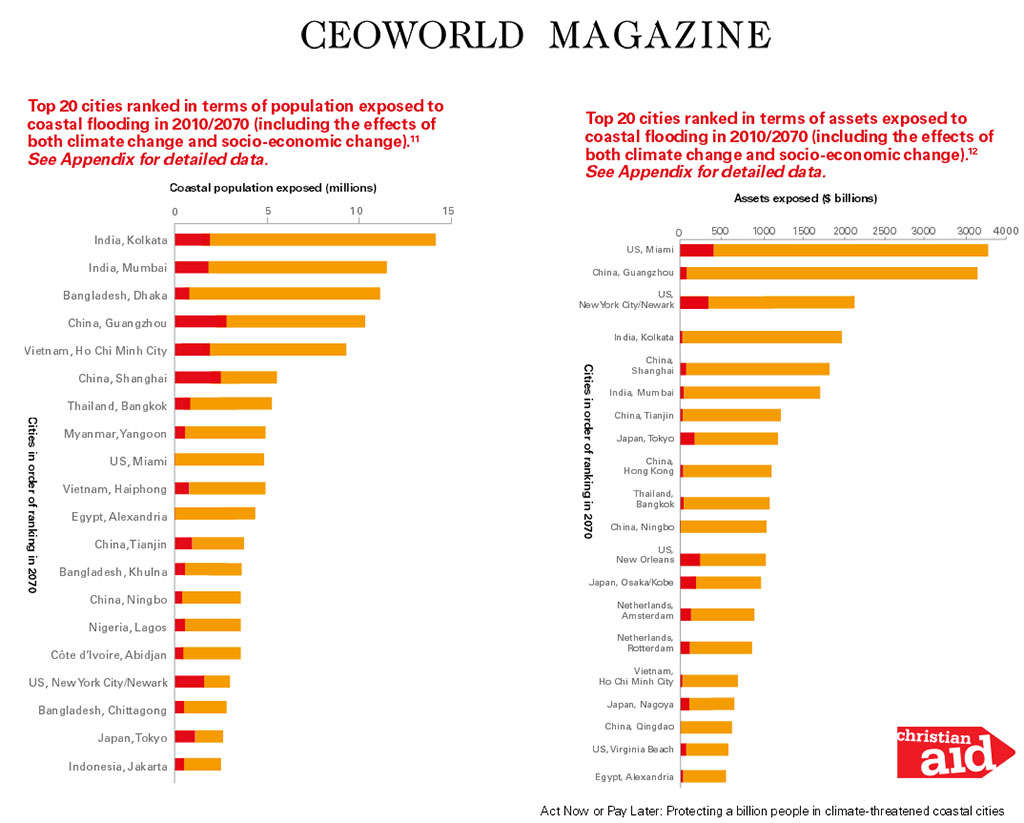 World's top 20 most flood-threatened cities ranked in terms of population exposed to coastal flooding in 2070:
| Rank | Cities | Countries | Coastal population exposed ( 2070) |
| --- | --- | --- | --- |
| 1 | Kolkata | India | 14,014,000 |
| 2 | Mumbai | India | 11,487,000 |
| 3 | Dhaka | Bangladesh | 11,135,000 |
| 4 | Guangzhou | China | 10,333,000 |
| 5 | Ho Chi Minh City | Vietnam | 9,216,000 |
| 6 | Shanghai | China | 5,451,000 |
| 7 | Bangkok | Thailand | 5,138,000 |
| 8 | Yangoon | Myanmar | 4,965,000 |
| 9 | Miami | US | 4,795,000 |
| 10 | Haiphong | Vietnam | 4,711,000 |
| 11 | Alexandria | Egypt | 4,375,000 |
| 12 | Tianjin | China | 3,790,000 |
| 13 | Khulna | Bangladesh | 3,641,000 |
| 14 | Ningbo | China | 3,229,000 |
| 15 | Lagos | Nigeria | 3,229,000 |
| 16 | Abidjan | Côte d'Ivoire | 3,110,000 |
| 17 | New York City / Newark | US | 2,931,000 |
| 18 | Chittagong | Bangladesh | 2,866,000 |
| 19 | Tokyo | Japan | 2,521,000 |
| 20 | Jakarta | Indonesia | 2,248,000 |
Leave a Reply