90-year-old shopping mogul, Henry Sy topped Forbes magazine's list of the 50 wealthiest Filipinos and their families for 2015. His estimated net worth is at $14.4 billion (from 2014's $12.7 billion), making him the Philippines' richest for the 8th consecutive year.
The youngest in the list is 38-year-old Edgar Sia, founder of Mang Inasal, who is ranked as 34th in the list with an estimated net worth for 2015 is $390 million.
At the age of 94 retail tycoon Bienvenido Tantoco Sr. is the oldest in the list. He ranked 31st with $480 million estimated net worth.
Of the 50, four of whom are women: Monde Nissin President Betty Ang ($905 million net worth); Mercury Drugstore President Vivian Que Azcona ($780 million); Unilab Co-founder Beatrice Campos ($740 million); Juliette Romualdez whose interest is on banking ($160 million).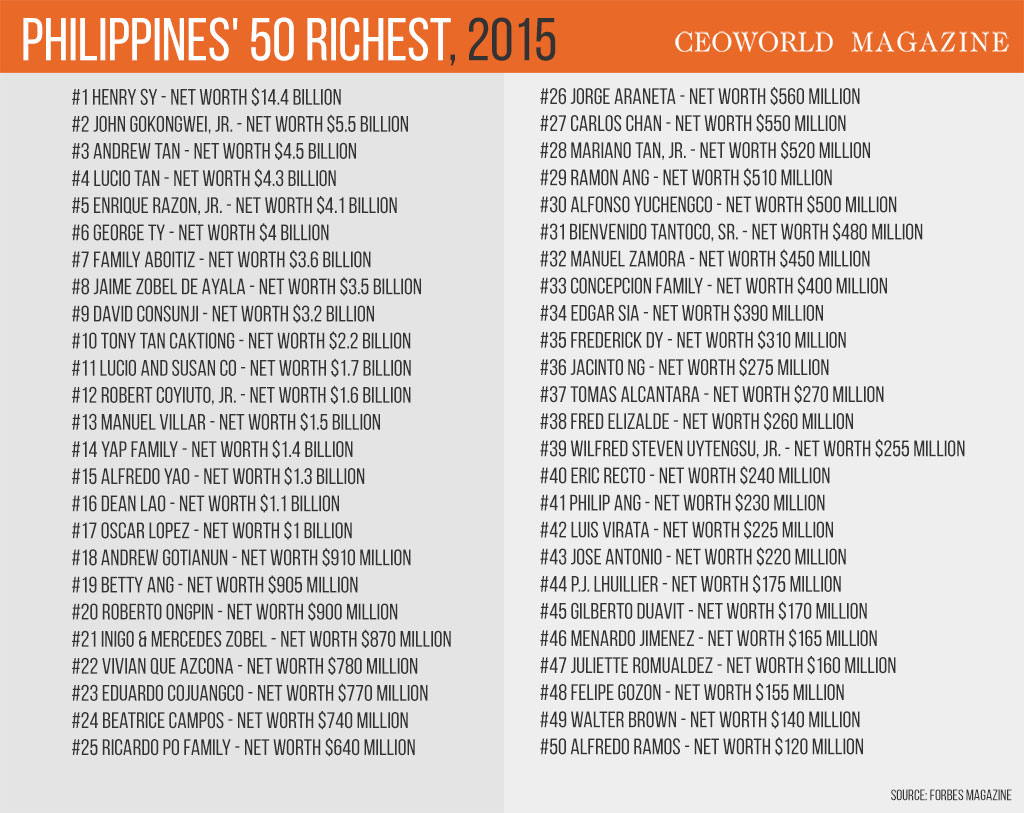 The 50 richest persons in the Philippines for 2015:
#1 Henry Sy – net worth $14.4 billion
#2 John Gokongwei, Jr. – net worth $5.5 billion
#3 Andrew Tan – net worth $4.5 billion
#4 Lucio Tan – net worth $4.3 billion
#5 Enrique Razon, Jr. – net worth $4.1 billion
#6 George Ty – net worth $4 billion
#7 Family Aboitiz – net worth $3.6 billion
#8 Jaime Zobel de Ayala – net worth $3.5 billion
#9 David Consunji – net worth $3.2 billion
#10 Tony Tan Caktiong – net worth $2.2 billion
#11 Lucio and Susan Co – net worth $1.7 billion
#12 Robert Coyiuto, Jr. – net worth $1.6 billion
#13 Manuel Villar – net worth $1.5 billion
#14 Yap family – net worth $1.4 billion
#15 Alfredo Yao – net worth $1.3 billion
#16 Dean Lao – net worth $1.1 billion
#17 Oscar Lopez – net worth $1 billion
#18 Andrew Gotianun – net worth $910 million
#19 Betty Ang – net worth $905 million
#20 Roberto Ongpin – net worth $900 million
#21 Inigo & Mercedes Zobel – net worth $870 million
#22 Vivian Que Azcona – net worth $780 million
#23 Eduardo Cojuangco – net worth $770 million
#24 Beatrice Campos – net worth $740 million
#25 Ricardo Po family – net worth $640 million
#26 Jorge Araneta – net worth $560 million
#27 Carlos Chan – net worth $550 million
#28 Mariano Tan, Jr. – net worth $520 million
#29 Ramon Ang – net worth $510 million
#30 Alfonso Yuchengco – net worth $500 million
#31 Bienvenido Tantoco, Sr. – net worth $480 million
#32 Manuel Zamora – net worth $450 million
#33 Concepcion family – net worth $400 million
#34 Edgar Sia – net worth $390 million
#35 Frederick Dy – net worth $310 million
#36 Jacinto Ng – net worth $275 million
#37 Tomas Alcantara – net worth $270 million
#38 Fred Elizalde – net worth $260 million
#39 Wilfred Steven Uytengsu, Jr. – net worth $255 million
#40 Eric Recto – net worth $240 million
#41 Philip Ang – net worth $230 million
#42 Luis Virata – net worth $225 million
#43 Jose Antonio – net worth $220 million
#44 P.J. Lhuillier – net worth $175 million
#45 Gilberto Duavit – net worth $170 million
#46 Menardo Jimenez – net worth $165 million
#47 Juliette Romualdez – net worth $160 million
#48 Felipe Gozon – net worth $155 million
#49 Walter Brown – net worth $140 million
#50 Alfredo Ramos – net worth $120 million
Leave a Reply