Unsurprisingly, Carol Meyrowitz, CEO of TJX Companies Inc., was the highest-paid executives from publicly traded retail companies in the United States, in a list by Fashion trade title Women's Wear Daily.
Carol Meyrowitz made $28.7 million in total compensation in 2014. With a close $28.2 million, Brian Cornell, chairman and ceo of Target Corp., took the No. 2 spot on that list of the Top 25 Highest Paid Retail Executives In The United States. And L Brands Inc.'s Les Wexner was 3rd with earnings of $24.1 million. Rounding off the top 5 are Marvin Ellison ($19.6 million), J.C. Penney CEO, and Greg Foran, President and CEO, Walmart U.S ($19.5 million).
Still, there is a big caveat: There are still relatively few female executives (4) in the top jobs at apparel and consumer goods companies, 16 of the top 25 executives earned more than $10 million last year.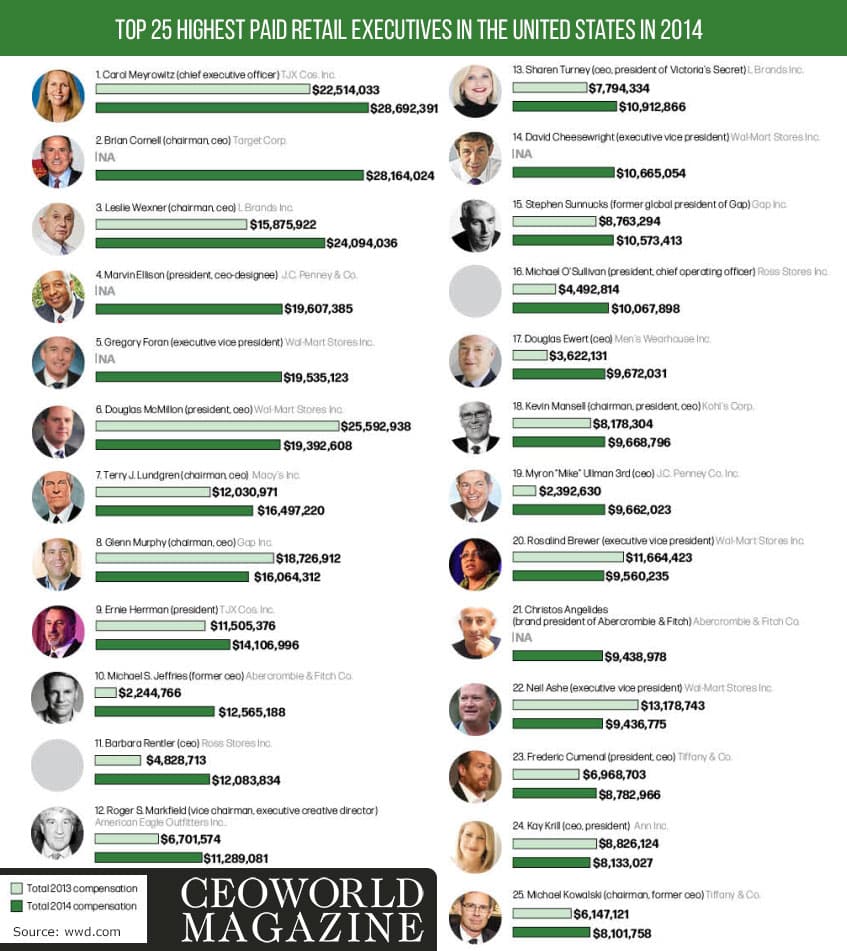 Retail's Top 25 Highest Paid Executives from U.S. publicly traded firms:
1. Carol Meyrowitz, TJX Companies Inc.
Total compensation in 2014: $28,692,391
2. Brian Cornell, Chairman and Chief Executive Officer of Target Corp.
Total compensation in 2014: $28,164,024
3. Leslie Wexner, L Brands Inc
Total compensation in 2014: $24,094,036
4. Marvin Ellison, J.C. Penney CEO
Total compensation in 2014: $19,607,385
5. Greg Foran, President and CEO, Walmart U.S.
Total compensation in 2014: $19,535,123
6. Doug McMillon, president and chief executive officer of Wal-Mart Stores, Inc. (Walmart)
Total compensation in 2014: $19,392,608
7. Terry J. Lundgren, Chief Executive Officer, Chairman of the Board, President, and Director at Macy's, Inc.
Total compensation in 2014: $16,497,220
8. Glenn Murphy, former CEO of the Gap Inc.
Total compensation in 2014: $16,064,312
9. Ernie Herrman, President, The TJX Companies, Inc.
Total compensation in 2014: $14,106,996
10. Mike Jeffries, former chief executive officer of Abercrombie & Fitch Co.
Total compensation in 2014: $12,565,188
11. Barbara Rentler, CEO of  Ross Stores Inc.
Total compensation in 2014: $12,083,834
12. Roger Markfield, vice chairman and executive creative director of American Eagle Outfitters
Total compensation in 2014: $11,289,091
13. Sharen Jester Turney is president and CEO of Victoria's Secret, and the largest subsidiary of L Brands Inc (formerly Limited Brand Inc)
Total compensation in 2014: $10,912,866
14. David Cheesewright, President and Chief Executive Officer of Walmart International, a division of Wal-Mart Stores, Inc
Total compensation in 2014: $10,665,054
15. Stephen Sunnucks, also known as Steve, served as the Global President of Gap Brand at Gap Inc.
Total compensation in 2014: $10,573,413
16. Michael B. O'Sullivan, President and Chief Operating Officer of Ross Stores Inc
Total compensation in 2014: $10,067,898
17. Douglas S. Ewert, Chief Executive Officer and President of The Mens Wearhouse, Inc.
Total compensation in 2014: $9,672,031
18. Kevin Mansell, the Chief Executive Officer of Kohl's Corporation
Total compensation in 2014: $9.668.796
19. Myron E. Ullman (also known Myron E. "Mike" Ullman III), the Chairman of the Board and Chief Executive Officer of J.C. Penney
Total compensation in 2014: $9,662,023
20. Rosalind G. Brewer serves as President and CEO of Sam's Club, a division of Wal-Mart Stores Inc.
Total compensation in 2014: $9,560,235
21. Christos Angelides, the president for its Abercrombie & Fitch and abercrombie brands
Total compensation in 2014: $9,438,978
22. Neil M. Ashe, president and CEO of Global eCommerce for Wal-Mart Stores, Inc.
Total compensation in 2014: $9,436,775
23. Frederic Cumenal, president Tiffany & Co
Total compensation in 2014: $8.782.966
24. Kay Krill, President & CEO at ANN INC
Total compensation in 2014: $8,133,027
25. Michael J. Kowalski, former CEO of Tiffany & Co
Total compensation in 2014: $8,101,758
Leave a Reply