Rabbit Beach in Italy was voted in at number 1 in a list of top 25 European beaches compiled from TripAdvisor's reviews. And Playa de Ses Illetes, Formentera, Spain came in second place. Paradise found!
Elafonissi Beach, Crete in Greece was in 3rd place, UK's Woolacombe Beach was 4th and Iztuzu Beach at Dalyan in urkey was 5th. Fig Tree Bay beach in Protaras, Cyprus, named as the sixth most amazing beach in Europe.
Here's Europe's top 25 best beaches in full – we'll see you there.
1. Rabbit Beach
Lampedusa, Islands of Sicily
"The sand is golden, the water is crystal clear and there are plenty of fish, so definitely bring a snorkel."
Best time to go: May – September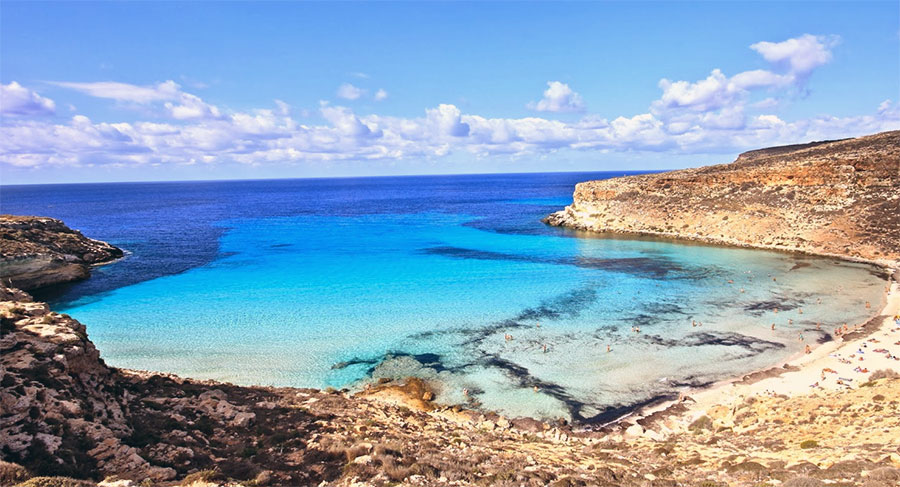 2. Playa de Ses Illetes
Formentera, Balearic Islands
"Endless sea, fine sand, spectacular views, yachts, fancy stalls, Ibiza on the horizon."
Best time to go: Year-round
3. Elafonissi Beach
Elafonissi, Greece
"The sea was calm and beautiful. The colors are intense—light blue water, pink sand. Paradise."
Best time to go: May – October
4. Woolacombe Beach
Woolacombe, United Kingdom
"Three miles of heaven. In wild weather, it is beautiful. In good weather, it is a delight."
Best time to go: July – September
5. Iztuzu Beach
Dalyan, Turkey
"This long, golden, sandy beach surrounded by pine-covered hills is a nesting place for turtles."
Best time to go: April – October
6. Fig Tree Bay
Protaras, Cyprus
"A must see place if you are in Cyprus!"
Best time to go: May – October
7. Cala Rossa
Favignana, Aegadian Islands, Islands of Sicily
"Rent a bicycle and see the beautiful unspoilt waters "
Best time to go: March – October
8. Weymouth Beach
Weymouth, United Kingdom
"sea front"
Best time to go: July – September
9. Eggremni Beach
Lefkada, Ionian Islands
"the most beautiful beach!!!"
Best time to go: May – September
10. Playa de Bolonia
Tarifa, Spain
"A beautiful beach with a lot to offer."
Best time to go: April – October
11. Rhossili Bay
Rhossili, United Kingdom
"Rhossili beach and Worms Head incredible"
Best time to go: July – September
12. Balos Beach and Lagoon
Kissamos, Greece
"Exotic!"
Best time to go: May – October
13. St Pauls Bay
Lindos, Greece
"gorgeous"
Best time to go: May – October
14. St. Brelade's Bay Beach
St. Brelade, United Kingdom
"Perfect beach"
Best time to go: July – September
15. Playa de las Catedrales
Ribadeo, Spain
"Gorgeous Views, Rock Cliffs and Arches"
Best time to go: July – August
16. La Pelosa Beach
Stintino, Italy
"The impossibly crystal-clear, azure waters is a hook that can never be dislodged"
Best time to go: May – September
17. La Concha Beach
San Sebastian – Donostia, Spain
"One of the most beautiful beaches of Europe"
Best time to go: June – September
18. Porthminster Beach
St Ives, United Kingdom
"Favourite beach but very fond childhood memories"
Best time to go: July – September
19. Cala Mariolu
Baunei, Italy
"Most beautiful beach on Sardinia:)"
Best time to go: May – September
20. Praia Dona Ana
Lagos, Portugal
"Fantastic beach nestled between cliff tops, sheltered from any wind. Beautiful scenery and great waves."
Best time to go: May – October
21. Praia da Falesia
Albufeira, Portugal
"Superb walk, especially with dogs"
Best time to go: April – October
22. Kaputas Beach
Kas, Turkey
"Wish we had more than one day here!"
Best time to go: April – November
23. Cala Comte
Ibiza Town, Spain
"the sunset place"
Best time to go: March – October
24. Jurmala Beach
Jurmala, Latvia
"Huge beach – space for everyone"
Best time to go: May – September
25. Cote des Basques
Biarritz, France
"The views are astounding. The waves are fantastic! Sunset was especially beautiful."
Best time to go: June – September
Leave a Reply