Oh, a recent study by Nate Silver and Reuben Fischer-Baum at FiveThirtyEight compared daily weather patterns against long-term averages and found out which city has the most unpredictable weather in US?.
Temperatures, precipitation, Wind speed, Humidity, and Cloud cover were also taken into the account for the study.
However, the overall aim of the study was to evaluate how unpredictable the weather is, rather than if the weather is good or bad.
Well, Rapid City, S.D., topping the list of the most unpredictable of all the cities, whereas "Kansas City" has the most unpredictable weather among the nation's larger cities.
Are you surprised to see "Kansas City, Missouri" on this list?
"Nate Silver did some nice analysis and developed some eye-catching visuals, but would've been on sounder ground had he framed his presentation around weather volatility rather than predictability," wrote Jason Samenow.
Here is the top 10 list of large cities in the United States with the most unpredictable day-to-day weather:
1. Kansas City, Missouri
2. Oklahoma City
3. Minneapolis
4. Cincinnati
5. Indianapolis
6. St. Louis
7. Birmingham, Alabama
8. Boston
9. Milwaukee
10. Dallas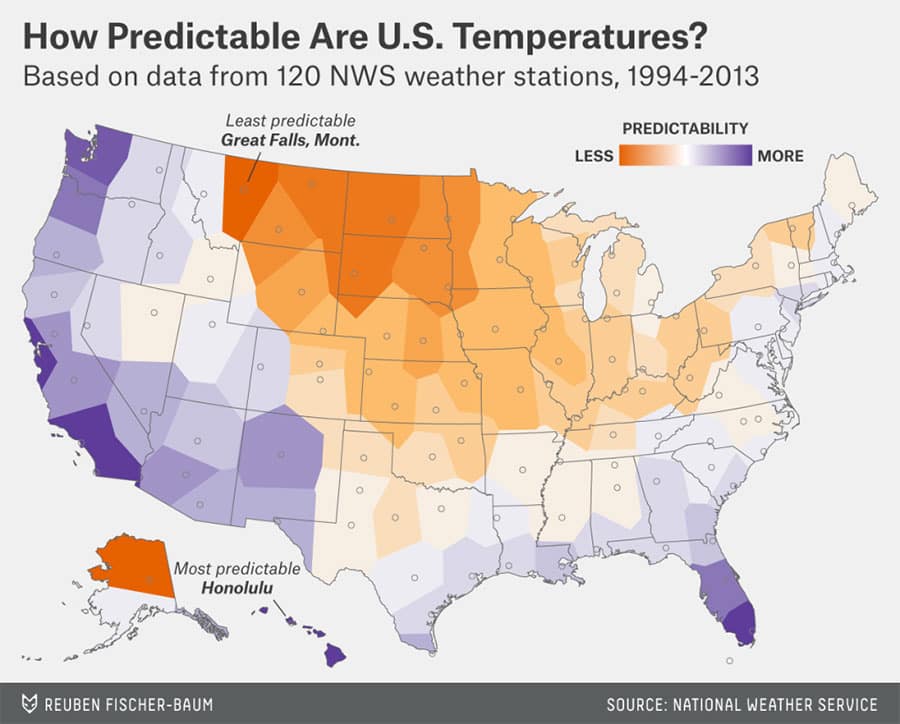 Leave a Reply