An extremely rare 1962 Ferrari 250 GTO, known as 3851 GT, once involved in a fatal accident has become the most expensive car ever sold publicly for a record-breaking $38.115 million— at London's Bonhams auction house.
What makes a 1962 Ferrari 250 GTO Berlinetta so unique?
The Ferrari 250 GTO, or Gran Tursimo Omologato, is regarded as the Holy Grail of classic cars and a vehicle due to its scarcity, history, good looks and performance on the track and the road.
Only 36 Ferrari 250 GTO's were built between 1962 and 1964, powered by 3-litre V12 engine developing 300bhp – meaning a 0-60mph time of 6.1 seconds and a top speed of 174mph.
3 more such cars were made, in 1964, when 'Series II' was introduced. Total Ferrari 250 GTO Berlinetta Production: 39 (1962–1964)
The 250 dominated the world racing circuits in for years —  kicking the asses of even feared competitors like the Jaguar E-Type.
Its first owner, French race car driver and Olympic gold-medal skier Henri Oreiller was killed in 1962 when he crashed the car while doing 100mph at Montlhery Autodrome, just south of Paris, France.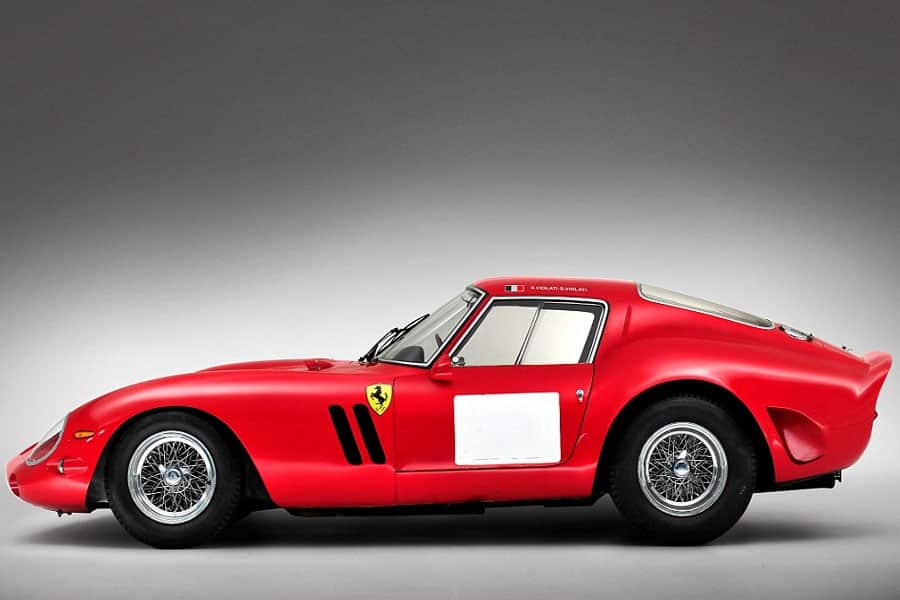 The winner of the auction was an unnamed man bidding over the phone.
The buyer will join a very exclusive club — the 250 GTO owners' club —
Pink Floyd drummer – Nick Mason, a former chief software architect at Microsoft &  CEO of Numerix – Gregory Whitten, fashion designer – Ralph Lauren, JCB boss – Anthony Bamford, the founder of McCaw Cellular (now part of AT&T Mobility) and Clearwire Corporation – Craig McCaw, and Walmart heir – Rob Walton.
What is the world's most expensive car ever sold at auction? Find out as we list the most valuable cars ever to go under the hammer.
14. 1931 Duesenberg Model J Long-Wheelbase Coupe – $10,340,000 – 2011
13. 1961 Ferrari 250 GT SWB California Spider – $10,894,900 – 2008
12. 1968 Ford GT40 – $11,000,000 – 2014
11. 1960 Ferrari 250 GT California LWB Competizione Spyder
Auction: Gooding & Company Pebble Beach 2012
Price: $11,275,000
10. 1936 Mercedes-Benz 540K Special Roadster
Auction: Goodings & Company Pebble Beach 2012
Price: $11,770,000
9. 1957 Ferrari 250 Testarossa
Auction: RM Auctions Marranello Sale 2009
Price: $12,402,500
8. 1953 Ferrari 340/375 MM Berlinetta 'Competizione'
Auction: RM Auctions Villa Erba Sale, Italy 2013
Price: $12,812,800
7. 1964 Ferrari 250 LM
Auction: RM Auctions New York Sale 2013
Price: $14,300,000
6. 1957 Ferrari 250 Testarossa
Auction: Goodings & Company Pebble Beach 2011
Price: $16,390,000
5. 1954 Ferrari 375-Plus Spider Competizione
Auction: Bonhams, Goodwood Festival of Speed 2014
Price: $18,400,177
4. 1964 Ferrari 275 GTB/C Speciale by Scaglietti
Auction: RM Auctions Monterey Sale 2014
Price: $26.400,000
3. 1967 Ferrari 275 GTB/4*S NART Spider
Auction: RM Auctions Monterey Sale 2013
Price: $27,500,000
2. 1954 Mercedes-Benz W196
Auction: Bonhams, Goodwood Festival of Speed 2013
Price: $29,600,000
1. 1962 Ferrari 250 GTO
Auction: Bonhams The Quail 2014
Price: $38,115,000

Dr. Amarendra Bhushan Dhiraj is the CEO and editorial director at CEOWORLD magazine, the leading global business magazine written strictly for CEOs, CFOs, top managers, company directors, investors, senior executives, business leaders, high net worth individuals, and the most globally powerful men and women.

Latest posts by Dr. Amarendra Bhushan Dhiraj
Leave a Reply
---